Collaborate to Innovate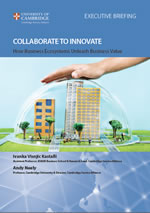 A study from the Cambridge Service Alliance urges businesses to understand the complex, interconnected 'ecosystems' they operate in if they want to survive and compete.
The research highlights the key points at which companies can or should exploit their ecosystem, and describes a three-step approach to identify ecosystem opportunities, with tasks that include:
Identify who the players are and what their business models are.
Identify the goal that unites all the players.
Examine the business models of all the players and build the ecosystem business model.
Identify the ecosystem roles, such as who brings the resources, who solves the problems and who manages the process.
Determine what the rules of the ecosystem are and examine the relationships.
Establish how the money flows and where the power lies.
Identify the gaps and how to tackle them. This includes deciding whether you can provide a better solution to your part of the challenge, or to another part of the challenge, and establishing whether the solution is properly integrated.
Related information
Business Ecosystem Strategy course
Map and create a strategy for your Business Ecosystem