Roadmapping for Strategy and Innovation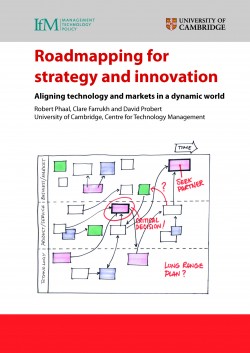 Aligning technology and markets in a dynamic world
Science and technology are recognised as the foundations upon which we build economic and societal value. Yet as the complexity, pace and globalisation of technology developments continue to increase, the challenges of turning technological potential into sustainable business success multiply.
Technology roadmapping is a powerful tool that can tackle these challenges, and is used widely by companies and other organisations to address many strategic and innovation goals.
Now more than a decade of research by the University of Cambridge's Institute for Manufacturing has gone into producing the first ever textbook on strategic roadmapping.
Provides both practitioners and academics with:
An introduction to the concept and practice of roadmapping techniques
Illustrated examples from a range of industrial sectors
Practical workshop approaches for supporting the efficient initiation of roadmapping
Guidance on using roadmapping with other strategic management tools and processes
Recommendations on how roadmaps can be developed to support the communication of strategy
Roadmapping benefits:
Flexible and adaptable to any firm, organisation or sector
Provides structured visual representation of strategy
Supports a wide variety of aims, including the alignment of commercial and technical strategy
Helps integrate new technology into the business
Communicates and promotes the value of technology to the business
Supports sourcing decisions
About the authors:
Dr Rob Phaal has been at the Centre for Technology Management at the University of Cambridge Institute for Manufacturing (IfM) since 1997. Dr Phaal is widely recognised as an expert in the field of roadmapping. He has facilitated over 200 roadmapping projects for companies, government agencies, research networks, trade associations and other organisations around the world.
David Probert is a founding member and Head of the Centre for Technology Management at the IfM. He is a Principal Investigator for the IfM's Innovative Manufacturing Research Centre.
Clare Farrukh spent six years in industry in process plant and composites manufacturing environments, involving engineering projects, production support, process improvement and new product introduction work.
Purchase
Resources
Bulk purchase and academic discounts available: ifm-enquiries@eng.cam.ac.uk

195.00 GBP plus P&P
ISBN 978-1-902546-82-7