The future of synthetic biology in the UK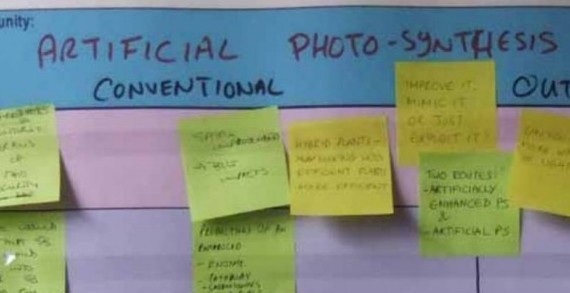 At a glance
Synthetic biology is a new technology with the potential to address some of the world's major challenges and set to become a £1 billion industry in the UK in the next 10 years
In 2012 IfM ECS ran a series of roadmapping workshops to develop a shared vision among a disparate group of stakeholders and to make key policy recommendations to support the realisation of synthetic biology's potential in the UK
---
Synthetic biology is an emerging technology which has enormous potential for both the UK economy and for meeting some of the world's major challenges. However, it is still in the very early stages of development, involves a large number of interest groups and raises issues of public concern. If it is to achieve its economic potential, the research, commercial and legislative communities need to share a vision of the way forward. In 2012, IfM ECS was asked to manage a roadmapping process to develop that vision and build consensus.
What exactly is synthetic biology?
In essence, synthetic biology applies the principles of 'engineering' to living systems. It looks both at how we can create new biological parts and devices and how we can re-design existing biological systems. As such, it could herald important breakthroughs, particularly in medicine and renewable energy. The UK has been at the forefront of these developments and is making important contributions to international research programmes. Progress has been so rapid in recent years that synthetic biology has now been identified by the UK government as "a key emerging technology with the potential to create a billion-pound industry within the UK in the next decade".
Building consensus
Synthetic biology is still a relatively new and unproven area of research which takes place at the interface of a number of different disciplines – biology, biotechnology, engineering and computer science – and is based both within the university and commercial sectors. The challenge is to bring these different communities together to develop a clear sense of direction that will ensure its economic potential is realised and, given that this is a new area of research, establish a robust and responsible ethical framework that will inspire public confidence.
In 2011 the UK Synthetic Biology Roadmap Coordinating Group asked IfM ECS to design and facilitate a roadmapping process. A series of workshops was attended by more than 72 experts from 55 different organisations, representing a broad range of interest groups. The process of generating the roadmap was itself an important part of opening up discussion, building consensus and starting the process of creating an informed, energised and effectively supported UK-wide synthetic biology community.
The workshops initially reviewed the whole synthetic biology landscape, looking at the short, medium and long terms. Details were then added, identifying key trends and drivers and anything that could affect outcomes at each stage of the process.
The outcomes
The key recommendations from the roadmap are that the UK should:
Invest in a network of multidisciplinary centres to establish an outstanding UK synthetic biology resource
Build a skilled, energised and well- funded UK-wide synthetic biology community
Invest to accelerate technology responsibly to market
Assume a leading international role
Establish a leadership council
A shared vision
Of the IfM ECS team, Lionel Clarke, chairman of the UK Synthetic Biology Roadmap Coordinating Group, said:
"The structure they provided stimulated the full engagement of all participants in the discussion and contribution of ideas. As a result, we were able to meet our main objective which was to start building a broad community, sharing ideas and concerns and identifying issues where changes to policy or putting in place supporting structures would help. The team was very effective, enabling progress to be made rapidly."
Informing government policy
Synthetic biology is one of the eight emerging technologies supported by the UK government and the roadmap is directly informing its policy in this area. In January 2013, David Willetts, Minister for Universities and Science said:
"We are making a series of investments in research in synthetic biology. The UK Research Councils and the Technology Strategy Board are spending over £90 million on world leading synthetic biology research and commercialisation including £20 million announced by the Chancellor last November. In December 20012, the government announced that a further £50 million will be invested in synthetic biology to support implementation of key recommendations from the UK Synthetic Biology roadmap."
---
Resources
A Synthetic Biology Roadmap for the UK - Published by Technology Strategy Board on behalf of UK Synthetic Biology Roadmap Coordination Group.
For further information please contact:
Dr Rob Phaal
T: +44 (0) 1223 765824
Share This