Biognostix
EU FP7 project: three years from April 2011
A new generation of fibre-based diagnostic sensors
See also Biognostix Project Page
PROJECT PARTNERS
Partner

Expertise

Role in Project

FFEI Ltd., UK

Inkjet Technology and materials image acquisition and analysis, software

life science products for research and clinical use

Project Coordinator

Development of manufacturing system for fibre based diagnostics (diagnostic reader prototype, manufacturing platform concept)

Proteomika S.L., Spain

Biomarkers and immunodiagnostic technologies

Development and testing of quantitative immunoassays for human disease

Prionics AG, Switzerland

World leader in farm animal diagnostics

Development, manufacturing and marketing of veterinary diagnostic products

Parco Tecnologico Padano SRL, Italy

Agri-biotechnology research

Development of new diagnostic tools for pathogen ID for common bacterial contaminants of food

University of Cambridge, UK

Inkjet technology, fluid mechanics, analysis and computation in inkjet technology biotechnology, biochemistry, bioassay materials and technologies

Programming of the microfluidic elements on fibre-based substrates development of the deposition methods for functional fluid formulations design / develop bioassay for incorporation into devices.

VTT, Finland

Fibre and paper technologies

Fibre-materials selection, pre-processing, and development of coatings and surface treatments
---
Point of Care Testing (POCT) devices are an emerging field representing 15% of the in-vitro diagnostics market. Testing for infectious diseases, and applications in agriculture and environmental screening, are the most promising market sectors as developers move beyond simple immunoassays to complex diagnostics at reasonable costs.
Paper-based microfluidics will enable a simple, low-cost, portable and disposable diagnostic platform to be developed.
The BiognostiX project will address the growing need for affordable, decentralised testing to detect, diagnose and monitor diseases and infections through: developing technologies and flexible manufacturing methods for the customisable fabrication of inexpensive diagnostic multiplex test sensors on fibre-based substrates.
The BiognostiX consortium will exploit recent advances in flexible manufacturing using digital printing to produce a new generation of disposable in-vitro diagnostic test platforms for POCT applications.
Advanced fluidjet printing technologies will be used to integrate functional materials on inexpensive fibre substrates to provide both the microfluidic transport functions and the diagnostic test and indication functions.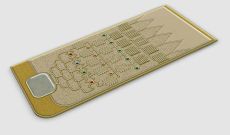 The BiognostiX test platform will consist of an array of microfluidic elements that can be configured for different diagnostic tests.