Michaelmas 2015 Newsletter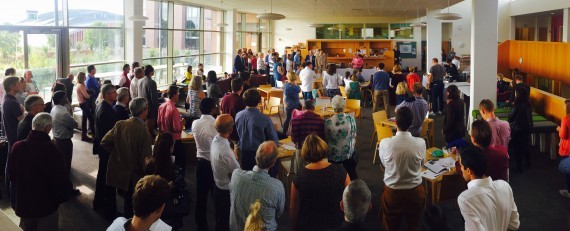 Dear All,
Delighted to see so many of you here at the IfM on Saturday 26 September for our alumni family lunch (see a few photos here). As I said in my brief comments one of the things that makes IfM so special is the family feel - we want to retain this open and inclusive style in the future and so I do hope many of you will be able to join us next year.
As those who were there will have been reminded, this year marks the 50th anniversary of the ACPMM/ACDMM/ISMM course. The first students were admitted in October 1966. Since then a lot has changed and one person has played a massive role in enabling this. I am, of course, talking about Mike Gregory. He has overseen significant growth and development in IfM and he's been a great colleague to have around. We'll really miss him when he retires and I am sure you will all want to join me in wishing him all the best for a long and happy retirement.

One of my priorities as the incoming Head of IfM is to make sure we retain and strengthen links with alumni, so please do continue to visit and consider joining us for workshops and events. We have four events coming up in the immediate future. These cover topics from manufacturing and operations strategies, manufacturing analytics, transformational product design and global supply chains. For more details about all of our open courses and workshops please see here.
If you can't join us for these events, then please do feel free to let me know when you are in the vicinity - it would be my pleasure to welcome you to IfM and discuss ways in which we might work together - through education and workshops, projects and visits, or through our active programme of research. To ensure we have your latest contact details please do use this form to update and feel free to send the link to any other former classmates who you think may be interested in hearing from us.
To keep in touch, we'll send out usual termly newsletter, plus you can join the IfM alumni LinkedIn group, find us on Twitter or Facebook, and watch some of our latest videos on YouTube.
I look forward to welcoming you back to Cambridge in the near future.
Professor Andy Neely
Head, Institute for Manufacturing