Idea log
Enables all ideas to be captured and focuses on winners, not losers. All ideas are good ideas and stay on the list. The best ideas rise to the top.
One of the greatest challenges to companies is knowing which projects to do next and keeping an up to date record of all possible ideas, from subtle improvements through to major new products. A simple tool is to maintain an 'idea log', which is reviewed at frequent intervals (every month or quarter).
Some form of scoring system will enable the strongest contenders to be visible at the top of the list. It is possible for an idea to be on the list for several years, until appropriate technology, skills of capacity is available to act upon it.
Having a strong log of ideas which emphasises the likely projects which could be done helps to remove the stigma associated with 'rejecting' projects which are not currently strong candidates. No ideas are rejected and all remain on the list and are reviewed in light of changes in the market place, technology or company situation. What may not be a strong idea this year may be a winner next.
The idea log should include a mixture of radical, incremental and process ideas and not be constrained to the core product technology, but include service, sales and other support activities. The best idea for product improvement may be to change the sales channels or promotional activities.
Each company should determine its own criteria for assessment, and behind each assessment may be a significant piece of work. Weaknesses in knowledge should signify the need for further work.
Ideas at the top of the list are likely to be the next things to be worked on.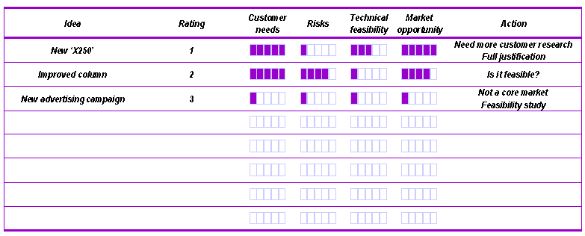 Notes
Needs to be public and accessible
Rating should be carried out by a cross functional team
Use the log to indicate where more information is needed - don't rate by gut feel
For more information, please contact:
T: +44 1223 764830