Design complexity scorecard
A very simple tool with immediate impact. Focuses the attention on the additional parts, processes, suppliers and tools that are introduced to the business as a result of a product design exercise.
Focuses on the types of production complexity introduced through a new design and enables a comparison of alternative design solutions. Recognises that all design decisions have an impact on production, through the introduction of new components, suppliers, tools and processes. By being aware of the addition of complexity to operations, the design team is encouraged to reuse existing and standard items. It is worth remembering that every new part requires drawings, tooling, purchase specifications, routing, input on a bill of materials, testing, planning etc.
Provides a simple metric which can be used as a basic design target at the outset of a project.
Drivers of complexity
Five drivers of complexity are listed below). In complex products, it may be difficult to monitor these closely and thus, it can be beneficial monitor these at a sub-assembly level. It is also useful for the design team to consider additional drivers, such as the number of fasteners, or number of parts using specific processes. This tailoring can help to ensure that the analysis is relevant to an individual business.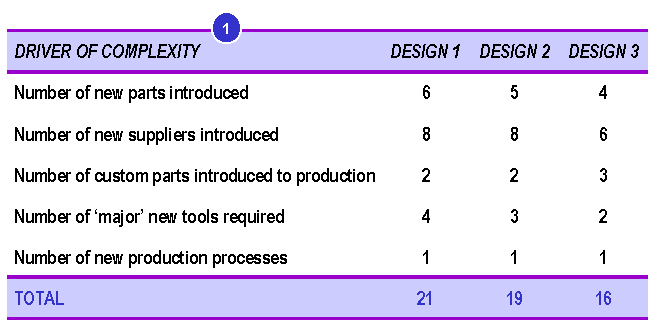 Notes
Can limit creativity and inhibit a design team's desire to look outside for alternative and new ways of doing things
Good for building the relationship between design, production and purchasing
For more information, please contact:
T: +44 1223 764830