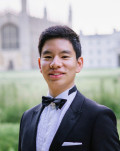 Wit Wannakrairoj
Doctoral Student
Current Research
Wit is currently a PhD Candidate under the supervision of Dr. Chander Velu. He has joined the Business Model Innovation Research Group at the IfM since October 2018. His main area of interest is business model innovation. He is currently investigating a relationship between business model innovation and firm's productivity.
Background
Wit graduated with BA (Magna Cum Laude) in Economics from the University of Washington, Seattle in 2013 and earned his MPhil in Finance degree from the Judge Business School in 2014. Wit has recently left JPMorgan in 2018 where he worked as an Associate for four years in several departments including Investment Banking, Equity Research, as well as Credit Risk. Prior joining the PhD program at IfM, Wit served on the faculty of Commerce and Accountancy at Chulalongkorn University, as a lecturer in Management Strategy Research Group.
Wit is also a recipient of the Chulalongkorn University Faculty Development Scholarship and had received a grant from the Ford of Britain Fund in 2019.
Research Interests
Business Model Innovation
Business Strategy
Innovation Management
Productivity
Contact Details
T: +44(0)7521755574

Share This

Institute for Manufacturing
17 Charles Babbage Road
Cambridge CB3 0FS