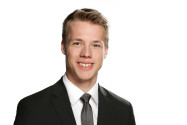 Till Nedderhut
Visiting Graduate Student
Till is currently a visiting graduate student at the University of Cambridge. He is associated with the Karlsruhe Service Research Institute of the Karlsruhe Institute of Technology (KIT) in Germany. At the KIT, he is a Master of Science candidate in Industrial Engineering. Before coming to Cambridge, he studied in Israel, Portugal and Germany where he obtained a Bachelor of Science in Industrial Engineering from the Technical University of Darmstadt.
His research at the IfM focuses on the use of technologies at the end of the life cycle of complex machines. Together with large industrial partners, he aims to explore how companies can adopt technology to drive the circular economy of their products.
During his studies, he worked in corporate strategy, business development and technical operations development in companies, scaleups and startups, including Volocopter, Lufthansa, Squake, Deutsche Bahn and ING. He also got involved as president of the VWI-ESTIEM student group, in telephone counselling for people in need and as a mentor for a primary school student and international students. In his free time, he enjoys playing tennis, skiing, cycling and travelling, especially to the Middle East and Asia.
Contact Details
T: +44(0)1223 766141
Share This

Institute for Manufacturing
17 Charles Babbage Road
Cambridge CB3 0FS