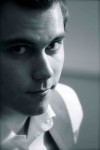 Ralf Gregor Niemann
Visitor
Research Interests
Laser synthesis and additive manufacturing of nanoparticle supports, rapid
material prototyping.

Background
Ralf studied in Germany at the RWTH Aachen and the University of Duisburg-
Essen and graduated with a B.Sc. in Chemistry in 2010. During his M.Sc.
program he conducted research at the Max-Planck-Institute in Mülheim and the
Colorado State University in Fort Collins and took classes at the Czech
Technical University in Prague. He is currently conducting a 6 months research
at the Centre for Industrial Photonics for his master thesis at the University of Duisburg-Essen.
Contact Details
Share This

Institute for Manufacturing
17 Charles Babbage Road
Cambridge CB3 0FS