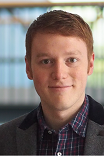 Martin Geissdoerfer
Doctoral Student
Martin Geissdoerfer is a doctoral researcher at the Centre for Industrial Sustainability at University of Cambridge under the supervision of Steve Evans. He is investigating the challenges of sustainable business model innovation, and how we can help organisations to master them.

Martin studied Industrial Engineering and Management at Technical University of Berlin and University of Cambridge with a focus on sustainable manufacturing and management. During his graduation project he developed a value ideation tool, which assists companies in incorporating sustainability into their business models by increasing stakeholder value, and successfully implemented it with companies and students in Vietnam, Iceland, and Germany.


Martin is co-founder of the social enterprise Favalley Ltd and has industry experience working in project management at Siemens AG and in technical consulting at KUKA Roboter GmbH. He has worked for Delft University of Technology on the EU FP7 ResCoM project and has experience in circular product design, production technology, and sustainable manufacturing research and teaching. His research interest lies in the field of sustainable manufacturing, sustainable corporate strategy, and sustainable design, especially business model innovation and the circular economy.
Publications
Geissdoerfer M., Bocken N.M.P., Hultink H.J. 2016. Design thinking to enhance the sustainable business modelling process. Journal of Cleaner Production, 135, pp.1218-1232, doi: 10.1016/j.jclepro.2016.07.020.
Geissdoerfer, M., Savaget, P., Evans, S. accepted. The Cambridge Business Model Innovation Process. 14th Global Conference on Sustainable Manufacturing, GCSM, 3-5 October 2016, Stellenbosch, South Africa
Morioka, S.N., Geissdoerfer, M., Carvalho, M.M., Evans, S. 2016. A value based view on business models for the circular economy. Exploring opportunities to sustainable development. 23rd European Operations Management Association Conference, EurOMA, 17 - 22 June 2016, Trondheim, Norway.
Lehmann, M., Bocken, N.M.P, Steingrimsson, J.G., Evans, S. 2015., Incorporating Design Thinking into Sustainable Business Modelling. 2nd International Conference on Sustainable Design and Manufacturing, SDM, 12-14 April 2015, Seville, Spain.
Contact Details
T: +44(0)1223 766402
Share This

Institute for Manufacturing
17 Charles Babbage Road
Cambridge CB3 0FS