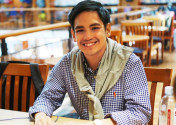 Aukrit Unahalekhaka
Doctoral Student
Aukrit's research focuses on scaling up innovative solutions to drive a more sustainable and resilient food supply chain in South East Asia, especially in adapting to the impacts of climate change. His particular interest is in the role of innovation financing and commercialization in achieving this goal.

Aukrit has co-founded a venture-backed Agri/Fintech startup which leverages AI and satellite technology to assist farmers in developing countries increase farm profitability and gain access to affordable financing.

Aukrit received a joint Master's degree in Engineering and Management from MIT, where he was a MIT Legatum Fellow for Development and Entrepreneurship. Aukrit was also a Management Consultant at Accenture in the Boston office and Director of Innovation at Chulalongkorn University, where he led the innovation center and lectured on entrepreneurship.
Contact Details
T: +44(0)1223 766141
Share This

Institute for Manufacturing
17 Charles Babbage Road
Cambridge CB3 0FS