Grass-root circular economy through creative waste innovation
Led by Dr Curie Park from the Centre for Industrial Sustainability, recent IfM projects in Thailand utilised local industrial waste and ocean plastic waste to develop sustainable products and services and identify circular economy business opportunities for local entrepreneurs.
---
In the drive towards a circular economy and climate change mitigation, better caretaking of waste plays a key role. How do we reduce the waste we send to landfill and to the oceans, and what do we do with the waste that is already out there?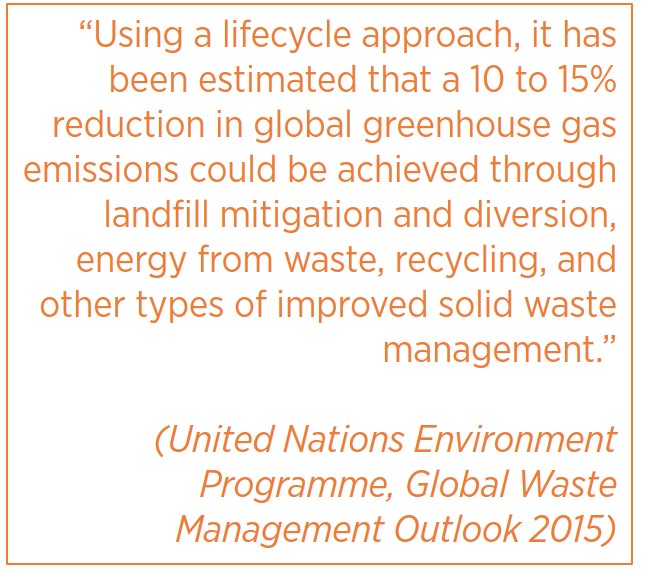 While the current linear economy system of 'take-make-use-dispose' generates more waste as the global population grows, there is increasing pressure on resources, leading to material scarcity. But there are ways to change this trend: if waste can itself be reused or recycled, there is an opportunity to use it as part of the solution to address with material scarcity – taking a 'circular' approach. Transitioning from a linear economy to a circular economy makes good economic sense, using a closed loop of material flow to recapture the value.
While the concepts of 'circular economy' are widely discussed and studied, many of them at still at a theoretical level with little supporting evidence or best practice at a replicable scale yet. Furthermore, it is hard to find research on the emergent, bottom-up level waste management research. A majority of the circular economy research is focusing on the top-down approaches from an organisational point of view. Hence, more robust methods for applying circular waste management at the grass root level must be identified, tested and rolled out at scale. A practice-based research would address the gap and provide templates for successful impact creation.
Working with communities to recapture value from waste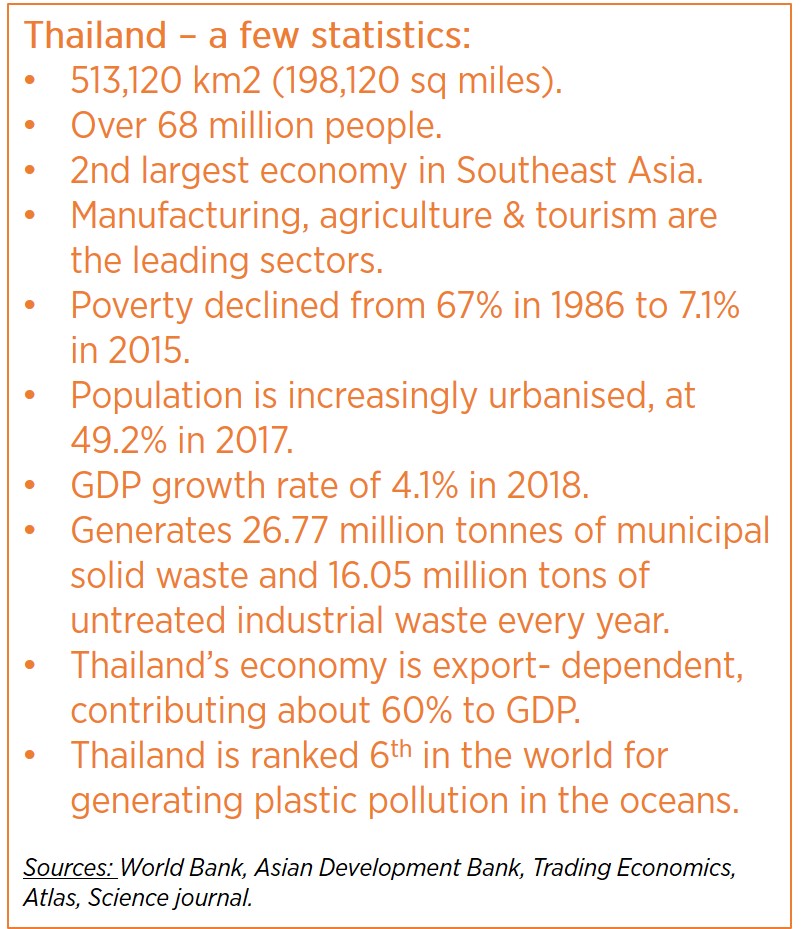 Dr Curie Park from IfM's Centre for Industrial Sustainability (CIS, PI: Steve Evans) has been leading three such research projects in Thailand and Sri Lanka, with different groups including large manufacturers, SMEs, students, local communities and entrepreneurs.
The latest project, funded by the GCRF (Global Challenge Research Fund) Global Impact Accelerator Account Impact Fund, worked with the local community and businesses in Na Jomtien, a coastal village in an area popular with tourists, near the larger resort of Pattaya in Thailand.
Curie explains:
"Thailand has a real problem with plastic pollution, and has been ranked the world's 6th biggest ocean plastic polluter in the world. There are limited waste management systems at the national level, combined with very high consumption of plastic packaging, and a lack of awareness of the harmful impact of littering."
Curie, with Ian Bamford the Commercial Director at CIS, ran workshops in Na Jomtien with local organisations, municipal officers and village representatives with a strong emphasis on community engagement throughout. The first activity was beach cleaning at Baan Ampur.
Ian describes the activity:
"We had 23 participants combing through the sandy beach and an artificial breakwater structure, including Cambridge researchers, Thammasat University students, employees from local businesses, and Na Jomtien villagers and volunteers. We collected 41 bags of plastic debris within just 90 minutes, which highlights the extent of the issue. This hands-on activity provided the participants and researchers with an excellent opportunity to experience the magnitude and the breadth of the marine plastic waste issues."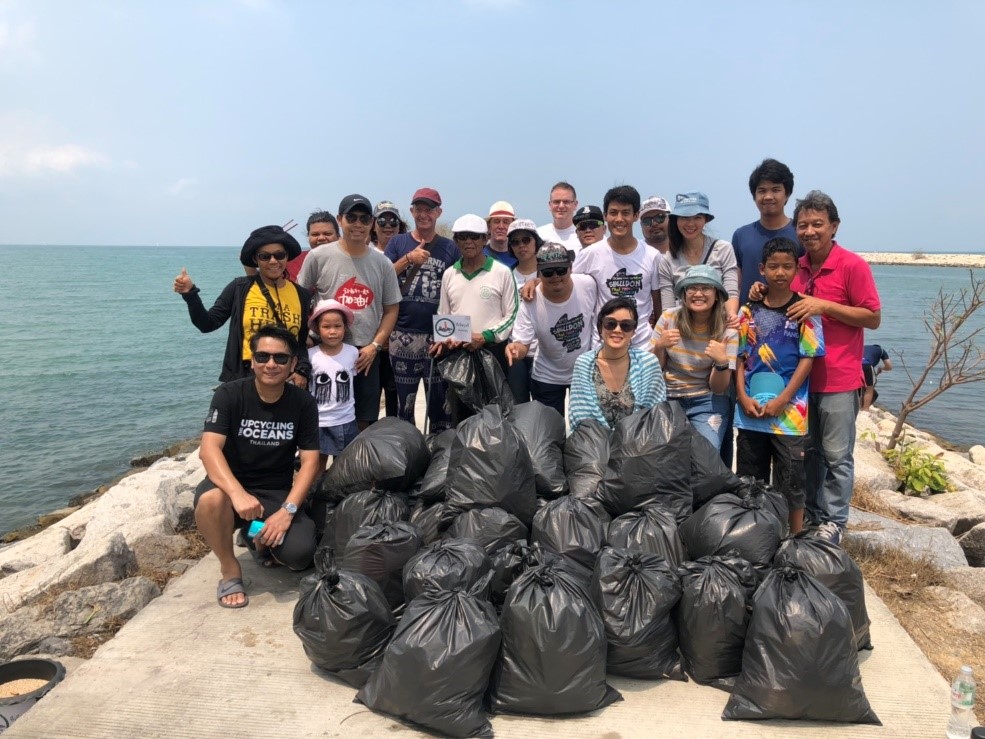 Following this, an 'ideation' workshop was held to consider how the waste could be repurposed, with local participants, students, farmers and businesses based on the beach, as well as the Thai Plastics Institute.
In parallel, the project incorporated further experimentation and testing of 'Glasstic' material, an industrial waste plastic and glass composite for construction – an innovation developed during one of Curie's previous Newton Fund research projects. A range of commercial-level property testing was conducted to confirm the technical competitiveness of Glasstic, working with a local researcher, Ronnagit Kobchaikul from Thammasat University. He was commissioned to take a charge of prototyping and testing with the local partner company PTTGC, with results demonstrating superior moisture contents and water absorption rate compared to its substitutes such as plywood and fibre cement board. In addition its aesthetic potential was recognised for providing unique characteristics.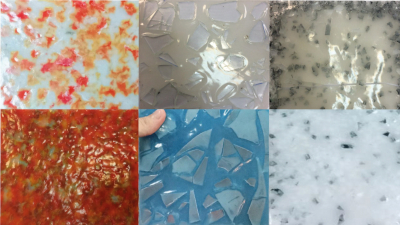 The local Na Jomtien group identified 20 local-specific challenges and generated 56 new ideas for the ocean and community plastic waste upcycling, which directly address the challenges identified. Curie adds:
"We then brought the participants together to focus on one or two prioritised ideas each, and follow an 8-step process to evaluate the opportunities, business models and pilot planning using the CIS frameworks. Finally, three of the original ideas were selected and further developed into concrete pilot plans, supported by a local steering committee."
The aim is for these business ideas to develop into revenue-generating commercial projects, which will benefit the local economy. They will serve as a model for public education, showing the viability of the circular economy.
The ideas were grouped into two streams. The most favoured ideas for the partner company to take forward for commercial development were roofing, outdoor furniture and fencing. Key advantages included the stability of the waste feedstock and the scalability to an industrial volume. The roofing and fencing ideas are particularly of high interest thanks to their high technology readiness and the relevance to the nature of the partner company MQDC's main business area of property development and construction.
Community groups from Na Jomtien and Baan Ampur favoured ideas such as Stand-up Paddle Board (SUP) for waste collection, compost bins, flower pots and recycling bins as they are closed linked to the daily needs of the community members. In particular, the Stand-Up Paddleboard for waste collection in the sea was an idea evolved by Ms Amara Wichithong, a local entrepreneur-cum-activist on addressing marine plastics issues in Na Jomtien area for the last couple of decades. As a former windsurfing world champion, she's been working on organizing beach cleaning with the surfing school customers, local children and Olympian colleagues, and has brought huge energy to the project.
In terms of long-term impact, Curie comments:
"There are several ways in which we expect to have a lasting impact. The project created the momentum at local level for actions to address the waste problem, and an understanding of how to generate real business ideas from the circular economy. We created motivation to change behaviour. The fact that an international project team came to the village to bring the local individuals together and to draw their local wisdom boosted their confidence and hope for a positive change at scale.
"The exciting part was its genuine interdisciplinarity. The project attracted more and more partners as it unfolded. The existing partners invited more of their connections including NGOs, government contacts and start-ups.
"It also demonstrated the step-by-step actions needed to put waste innovation ideas into practice, including transfer to locals of key knowledge and business model development skills using the CIS frameworks. Within the first month since the completion of the project, the industrial partner MQDC cemented minimum seven different community waste upcycling projects."
Award-winning student innovations
Another of Curie's pilot projects was the Creative Hub for Waste Innovation, which was jointly supported by the Thai and UK Governments with the award of a Newton Fund Institutional Grant, and run in collaboration with Thammasat University and three local manufacturing SMEs who were trying to improve waste management.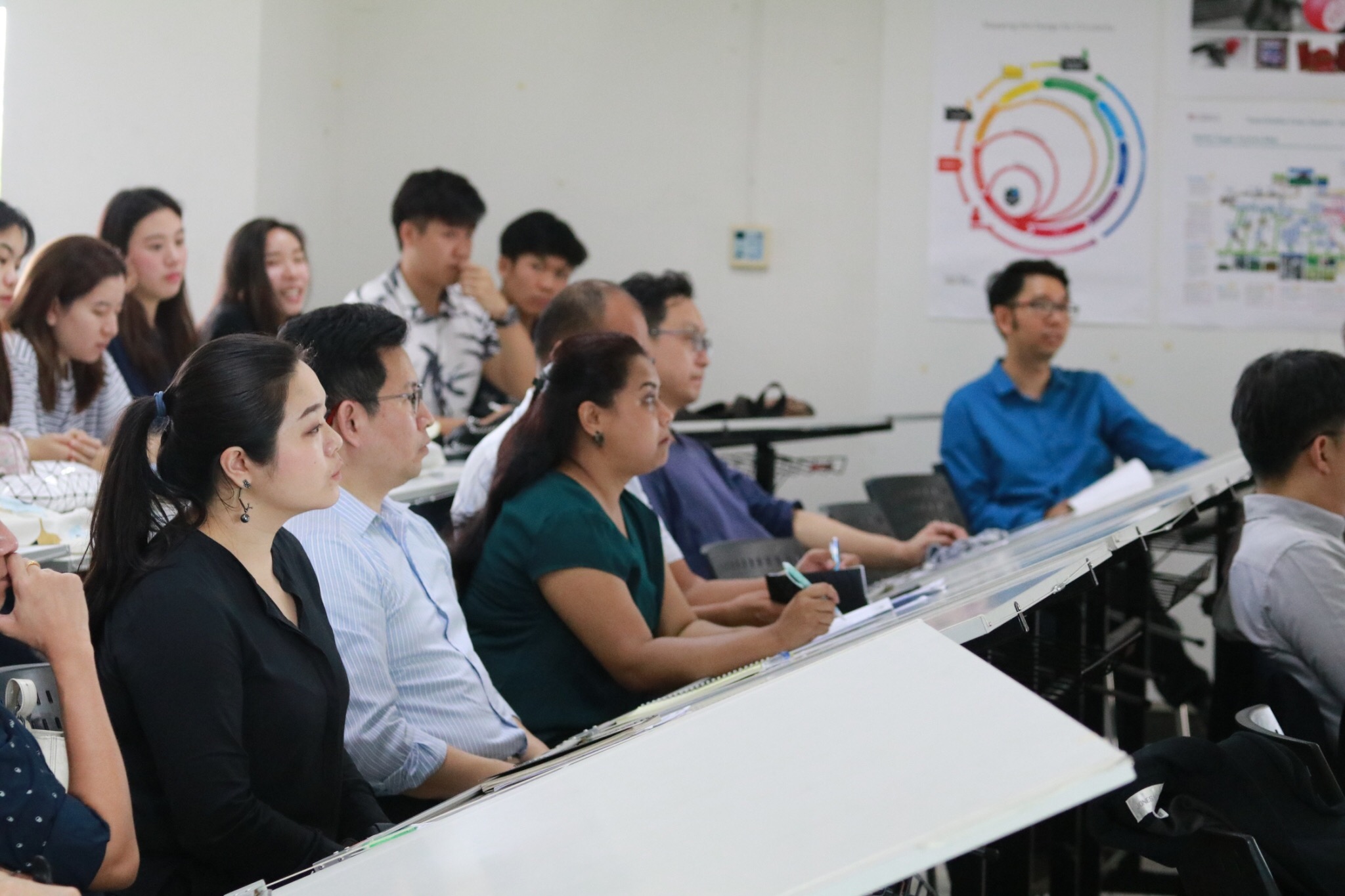 The project worked with SME manufacturers to reclaim and upcycle waste materials from their processes. In Thailand, 93% of waste from SMEs is not being properly treated. Taking waste directly from their production processes is more efficient than recycling or disposing of it, so this project focused on how waste materials could be directly repurposed into new products. To gain insights into some of these issues at first hand, the cohort of Thammasat students and researchers visited seven local SME manufacturers to get a better understanding of their processes, the type of waste materials created, and the issues around disposal of waste.
Working in small teams, the students were challenged to identify how they would create a new product from waste materials – choosing from plastic, wood or glass. They followed a process facilitated by Curie, using a selection of CIS tools and the 'Design Thinking' framework, to generate and develop product designs and business models.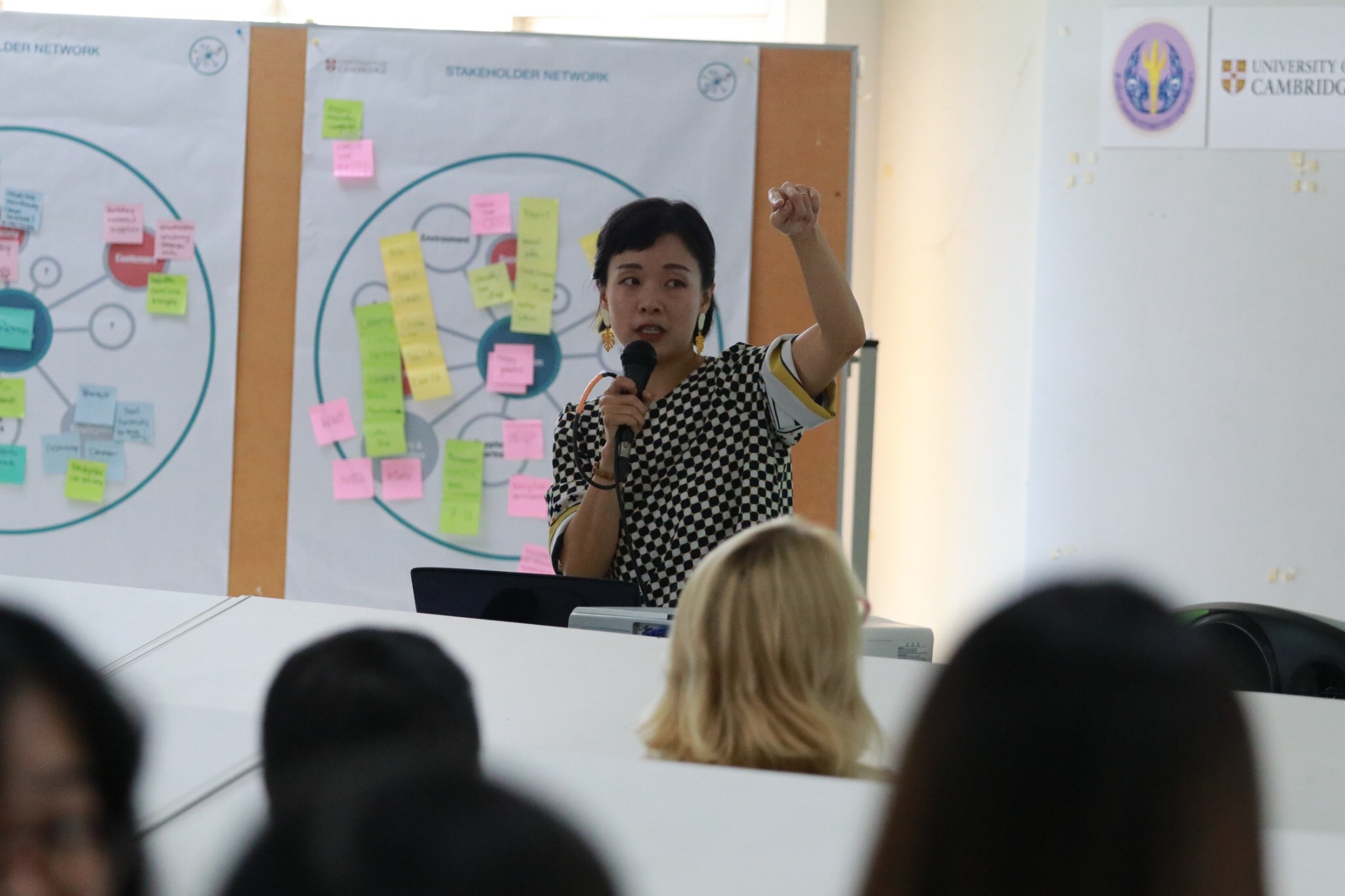 Three of the teams were given the opportunity to present their innovations at an investment pitch as a part of the Bangkok Design Week 2019. Ed-Kid, a DIY puzzle toy created using upcycled HDF waste, was voted as one of the top three Best Creative Business Awards 2019.
Curie explains:
"This was a really exciting finale to the project. Ed-kid is a great product - using the narrow offcut pieces from a local car factory, the team developed small parts that children can assemble into buffalos and rice paddies symbolising the 'Thai agriculture scene'. It really worked nicely for reusing waste materials as well as creating something educational and representing an aspect of Thai culture."
The result, voted on by 440 public audience members, demonstrated the positive social recognition of the waste issues in Thailand and the value of upcycling.
Way forward to Boosting a Circular Economy across the world
A series of interdisciplinary action research projects on waste innovation allowed Curie to test and iterate a range of creative waste innovation process types and constructs. The journey into establishing further best practices and identifying the conditions to nurture more emergent circular economy activities across the world and industry sectors will continue to expand.
A public report detailing the waste innovation projects, including the frameworks for systematic waste innovation developed through these projects, will be published this autumn.
For further information please contact: