Assessing and improving product design capability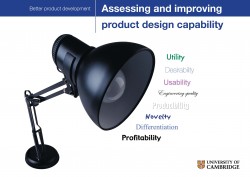 This book contains two audit tools:
Product audit - this takes the form of a product 'healthcheck', assessing product usability, performance, producibility, desirability, profitability and differentiation.
Process audit - this assesses the maturity of 25 key design activities covering both 'design execution' and 'design management'.

The audits can be completed by a single individual from the company, but are best performed as a group activity in a workshop setting. Ideally, the group should contain representatives from across the company, typically including Marketing, Engineering, Production and Customer support.

The audits are intended to stimulate discussion about the performance of the company's new product design and development system, and to reach consensus on current and desired status. Opportunities for improvement are identified along with appropriate actions. A number of possible tools and techniques may also be suggested.
Workbook contents
Introduction
Good design: a product view
Good design: a process view
Good design: a combined product and process view
Workbook aim and audience
Using the workbook
Overview of the improvement process
Step 1: Product audit
Product audit concepts
Running a workshop
Product audit worksheets
Step 2: Process audit: Design Maturity Model
Process audit concepts
Using the Design Maturity Model
Running a workshop
Design Maturity Model worksheets
Step 3: Capturing discussion and action planning
Types of action
Using the 'action map' and action log
Running an action planning workshop
Action planning worksheets

50.00 GBP plus P&P
ISBN 978-1-902546-14-8