Sinews of Development Speaker Series
Syria is a Catastrophe. Now What?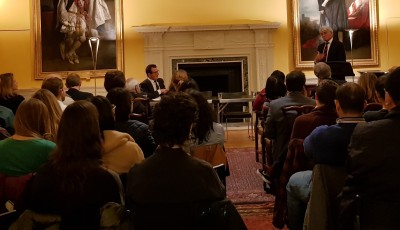 Thursday 15 November 2018, 17:45-19:00
Webb Library, Jesus College, 31 Jesus Lane, Cambridge CB5 8BJ
Panelists will debate and be challenged on the roles of the various stakeholders as well as their ideas about the resilience and sustainable development of Syria and the future of the people of Syria.
The event will be chaired by the Right Honourable Andrew Mitchell, MP and features panelists:
H.E Ambassador Rami Mortada of Lebanon
BBC Middle East Editor, Jeremy Bowen
Dr David Nott, OBE, the founder of the David Nott Foundation
Dr. Roxane Farmanfarmaian, a founding member of Cambridge Centre for the International Relations of the Middle East and North Africa (CIRMENA), of the University of Cambridge.
Organiser: The Resilience and Sustainable Development Programme (RSDP)
This event is free to attend and you can reserve your place via Eventbrite.
---
Chair:
The Right Honourable Andrew Mitchell, MP
Andrew Mitchell has been the Member of Parliament for Sutton Coldfield since 2001. He served as the Minister for Social Security, Vice Chairman of the Conservative Party (1992-93), the Army (Royal Tank Regiment) and was a United Nations Peacekeeper in Cyprus before joining Lazard, the international investment bank. In November 2003 he was appointed as Shadow Minister for Economic Affairs and from September 2004 he was the Shadow Minister for Police. Following the General Election in May 2005, he was appointed Shadow Secretary of State for International Development. He then served as the Secretary of State for International Development from May 2010 - September 2012 and Government Chief Whip from September – October 2012. Andrew was elected as President of the Cambridge Union in 1978 while he was a student at Cambridge. He has returned to Cambridge as the Senior Fellow of the Resilience and Sustainable Development Programme (RSDP) to lead this distinguished lecture series, the Sinews of Sustainable Development.
Panelists:
H.E Ambassador Rami Mortada, Lebanon
Ambassador of Lebanon to the UK, accredited since December 2017. He opened the Lebanese Embassy in Damascus, Syria, after the inauguration of diplomatic relations. Ambassador Mortada served as the Counsellor/Chargé d'Affaires in Syria. He is a member of the Lebanese delegation to several Euro-Med ministerial meetings and EU-Arab conferences. Trained as a lawyer, Mr Mortada joined the Foreign Service in 1993. He is active in multilateral and bilateral negotiations on building sustainable development and peace for the Middle East.
Jeremy Bowen, BBC Middle East Editor
Mr Bowen is a Welsh journalist and television presenter. He was the BBC's Middle East correspondent based in Jerusalem between 1995 and 2000, and has been its Middle East Editor since 2005. As an expert on the region, Mr Bowen has interviewed political leaders such as the late Muammar Gaddafi of Libya. Mr Bowen was one of the few journalists inside Syria reporting on the civil war. In February 2015, he spoke with President Bashar al-Assad about the ongoing Syrian conflict during an exclusive BBC interview. His book, The Arab Uprisings: The People Want the Fall of the Regime, is well-regarded as a key source.
Dr David Nott OBE FRCS, Founder of the David Nott Foundation
Dr Nott is a Consultant Surgeon at Chelsea and Westminster Hospital. Along his medical practice, for the past twenty-three years David has taken unpaid leave each year to work for the aid agencies Médecins Sans Frontières, the International Committee of the Red Cross and Syria Relief. He has provided surgical treatment to the victims of conflict and catastrophe in Bosnia, Afghanistan, Sierra Leone, Liberia, Ivory Coast, Chad, Darfur, Yemen, the Democratic Republic of Congo, Haiti, Iraq, Pakistan, Libya, Syria, Central African Republic, Gaza and Nepal. He is active in fundraising for charitable causes and in teaching advanced surgical skills to local medics and surgeons when he is abroad. In London, he teaches the Definitive Surgical Trauma Skills (DSTS) and Surgical Training for the Austere Environment (STAE) courses at the Royal College of Surgeons.

Dr. Roxane Farmanfarmaian, University of Cambridge
Roxane Farmanfarmaian is the Academic Director, International Relations, at the Institute of Continuing Education. Her research focuses on the inter-relationship between local Middle East interests and global (Western) power, using a range of theoretical and multi-disciplinary approaches. Drawing from her years as a professional journalist, she is particularly interested in the use of language and communication as they relate to a narrative, political identity, security and conflict. She is a founding member of the Centre for the International Relations of the Middle East and North Africa (CIRMENA), which is affiliated to POLIS, the Department of Politics and International Studies at the University of Cambridge From 2002-2005, she was Editor of the Cambridge Review of International Affairs (CRIA).
---

The Resilience and Sustainable Development Programme (RSDP) is a multi-disciplinary action-research initiative at the University of Cambridge, situated in the Centre for Industrial Sustainability (CIS). From the perspective of timing, trust and cooperation, we are actively researching solutions for complex global challenges from modern poverty to ESG investments that require evidence, empathy and encouragement. We break down the silos between disciplines, sectors, and actors by harnessing new theories of change and evidence of sustainability.
We carry out research on three areas by blending system thinking with branches of social science and natural sciences: 1. Sustainable Investment, 2. Good Governance and 3.Responsible Innovation. We also developed a distinctive research approach which includes designing interactive platforms and methodologies to engage with the beneficiaries of our research from the early stage. Together with our participants, we developed business cases, policy reform strategies and sustainable investment frameworks for over 200 companies and over 20 countries.
Find out about our programme team who are accelerating resilience and sustainable development by enabling decision-makers to move to higher sustainable investment and productive activities with empathy and evidence.
For further information please contact:
Sharon Mey
T: 01223 766402
Event location
Location:
Webb Library, Jesus College, 31 Jesus Lane, Cambridge CB5 8BJ
Event Timings
Date: 15 November 2018
Time: 17.45 to 19.00