Cambridge Festival 2022 - IfM talks and activities

In-person events at the IfM - Saturday 9 April, 13:00-17:00:
Saturday 9 April 2022, 13:30-14:30, IfM, Cambridge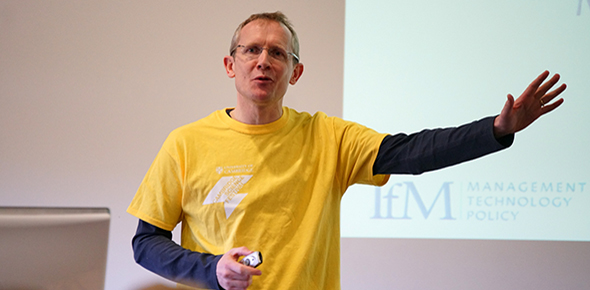 This talk will answer important questions like: Can you 3D print a car? Why is my TV made in China, not Cambridge? How do you build a rocket? Why don't we have electric airplanes yet? Should we stop buying bottled water? … and many more.
Speaker: Professor Tim Minshall, Dr John C Taylor Professor of Innovation & Head of the Institute for Manufacturing
---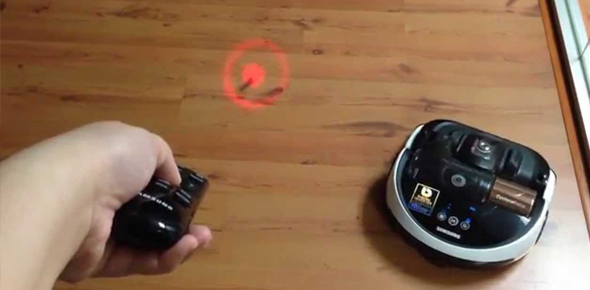 Laser guidance is a method to direct a robot to a target position using a laser beam. We put a camera, a Rasberry Pi (a mini computer) and some electronic components on a toy car, and wrote some computer code in a language called Python.
What is it used for?
The best known application of laser guidance is in laser guided missiles. It has also been used in robotic vacuum cleaners. And of course, you can use it to race toy cars!
In-person, Age group: Children under 12, No booking required, 13:00-16:00
---
Digital Manufacturing on a Shoestring demonstrations
Come and see how three low-cost Shoestring solutions helped the 'DMW factory' improve the efficiencies on their gearbox production line quickly and easily.
A job tracking system, costing under £300, gave the company a clear picture of jobs in progress, so that they can track customer orders and plan the production process better, predicting accurate lead times needed for different job quantities.
An automated parts completeness checking system, costing £155, helped reduce time wasted on the production line at the assembly workstation when parts are missing, by providing a double check that all correct parts are colated before they are sent from the stock room to the assembly station.
An equipment usage system, costing £140, reported on the total hours of actual equipment usage, so that maintenance can be scheduled at the optimum time, preventing time being lost on the assembly line due to equipment breakdown. Additionally it could monitor if equipment is switched off when not in use, and prevent energy wastage, and ensure equipment is operated correctly.
In-person, No booking required
---
See some of the latest science-based products from local companies and win a prize for thinking of the most original ways to use them!
In-person, Age group: All ages, No booking required
---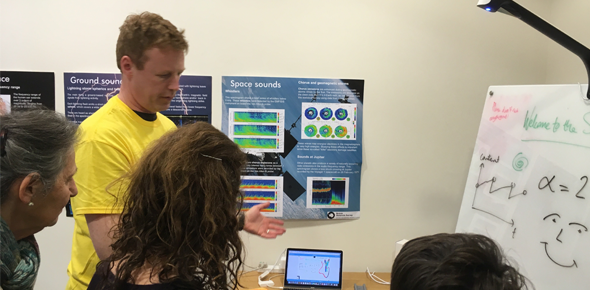 Learn about sounds through fun activities with the team from Audio Analytic.
In-person, Age group: All ages, No booking required
---
IfM Colouring book - How stuff gets made 2022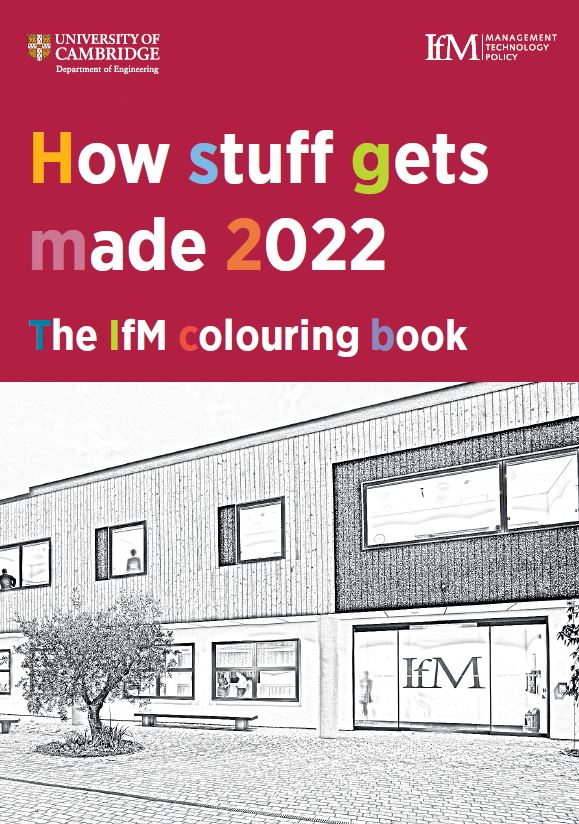 Manufacturing is all about how stuff gets made. At the Institute for Manufacturing we work on helping people to make things in better ways.
This can be from thinking about how the tiniest things fit together at nanoscale, right up to how we move things around the world. It can be about how people work together, how they come up with new ideas, or how we make things in a way that is better for the planet.
We hope you enjoy colouring the pictures, having a go at the IfM Maze, spot the difference and IfM word search, and finding out a little bit more about how stuff gets made.
Please click here to download the colouring book
---
Online events - available from 31 March - 10 April 2022:
This on-demand video shows a lab demonstration of how plasma processing changes a sample's surface energy, which isn't visually noticeable. But after the sample has been processed and then sprayed with water, we see that the water pools over the processed area revealing its shape.
On demand video
Age group: 10+
---
Micro CT - looking through everyday objects
This video by PhD researcher Regana Vasanthanayaga describes a smaller version of the CT scanner that you may have seen in hospitals. A micro-CT scanner is used in research as a characterisation method to look through samples and reveal what cannot be seen with the naked eye. This video also shows how we can see through everyday objects such as a mobile phone!
On demand video
Age group: 10+
---
Gel printing
Find out how researchers from the Fluids in Advanced Manufacturing group have used 3D printers to print interesting patterns using gelatin.

This short video demonstrates the potential of new 3D printing techniques.

---
Join the Fluids in Advanced Manufacturing team and learn about some amazing phenomena found when manufacturing with fluids, then try out the experiments at home!
On demand video coming soon
Age group: 10+
---
Cambridge Festival website: https://www.festival.cam.ac.uk/
For further information please contact:
Events Team
T: +44 (0)1223 748267
Event Timings
Date: 9 April 2022
Related Events

Thursday 1 December 2022