Mexico-US trade and their automotive supply chains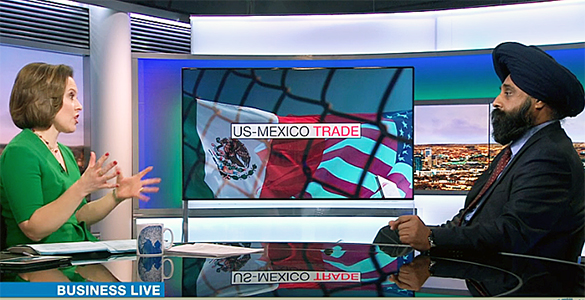 US President Donald Trump is pushing to bring more manufacturing jobs back to America and is targeting the automotive industry to help him achieve this goal.
The President has already met with the heads of Ford, General Motors and Fiat Chrysler this week about making more of their cars in America. However, the automotive supply chain is incredibly complex with components crossing international borders multiple times before a new car is completed.
Head of IfM's Centre for International Manufacturing, Dr Jagjit Singh Srai, spoke with BBC's Business Live co-presenter Sally Bundock about the close links between the US and Mexican automotive industries and the possible unintended consequences of introducing barriers against Mexican imports, such as tariffs.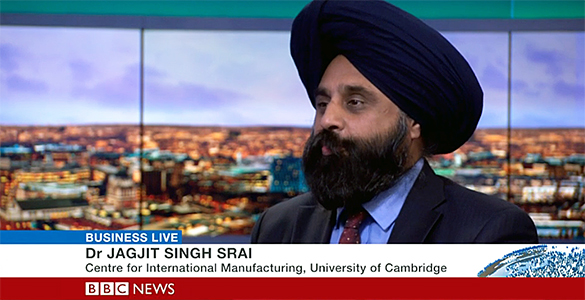 Dr Srai told the BBC that: "Automotive supply chains are not just about where you assemble the final car. They involve the complex automotive component supply chains that crisscross borders.
"It's a complex picture. We have automotive component manufacturers in the US supplying components to Mexican car assembly plants. Some reports estimate that of the cars assembled in Mexico entering the US market, many contain 30-40% of components that were made in America. If tariffs were introduced, leading to operations in Mexico scaling back, those American manufacturers supplying components to these Mexican factories could also be negatively impacted.
"In Mexico, the Mexican car manufacturing facilities that have targeted the American market specifically will suffer significant trauma, particularly those focused on lower-price value brands. They will have to scale back production, and some of them may not be economical going forward. But as Mexico has trade agreements with dozens of other countries, those Mexican plants that have a global market agenda will perhaps be less impacted.
"All these changes will increase the cost of doing business and the automotive sector does not have margins that can accommodate those increased costs and so we can look forward to prices going up."
"Of course there may be short term tactical advantages for the US, as some car manufacturers and their supply base will be far more reticent in offshoring their operations in the current political climate, but longer term this is unlikely to help the North American market compete in what is a very competitive global supply chain. And as automotive supply chains take many years to develop and are traditionally 'lean' by design these changes will create significant unease in the industry, requiring a re-think to more sub-regional supply models."
If you are based in the UK you can watch the full interview online (available until 23 February 2017)
The IfM's Centre for International Manufacturing pursues an extensive programme of research and real-world application of new approaches for the strategic configuration of global value networks, working closely with a community of industrialists, policymakers and academics. For more information about the Centre and workshops that it runs for industry, click on the links on the right.