Strategic Roadmapping case studies - What's New at the IfM - September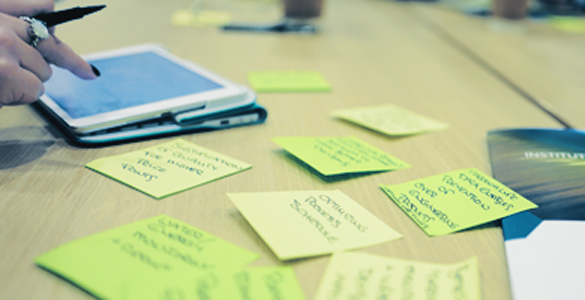 Agreeing on a shared vision for an organisation's future and identifying the key steps needed for it to become reality can be challenging. Roadmapping is a powerful tool for doing just that and is one that we at the IfM's Centre for Technology Management have been researching for over a decade.
During that time we have helped more than 300 public and private sector organisations with their strategic, technology and innovation planning. To illustrate the flexibility of the roadmapping approach, a series of case studies is being prepared, focusing on firm-level applications:
We worked with a global leader in packaging to support a more strategic approach to managing innovation projects and improve communication and co-ordination across its geographically dispersed units.
We helped a global manufacturing organisation align their long-term technology research and their business goals, whilst also realigning the corporate research budget according to the future needs of the company.
We collaborated with an oil and gas multinational which was sponsoring the development of a new technology at the University of Cambridge to facilitate industry-university research alignment and develop an agreed plan of the next stages of development.
The IfM is a world centre of excellence for roadmapping. Through our knowledge transfer company, IfM Education and Consultancy Services (IfM ECS), we run roadmapping projects for businesses of all sizes, universities, and national and international public bodies. We also run training courses to provide delegates with the knowledge and confidence to apply roadmapping concepts and methods within their own organisations.
Read our latest case studies below to see a selection of strategic roadmapping projects and get in touch if you would like more information.
With best wishes,
Dr Rob Phaal
Centre for Technology Management
Institute for Manufacturing
Case studies
You may also be interested in...
Strategic roadmapping course
Wednesday 12 October 2016
A thorough introduction to strategic roadmapping, guiding participants through each step of the roadmapping process.

Consultancy Services
Roadmapping for strategy and innovation
IfM ECS undertakes roadmapping projects for a wide range of commercial and public sector organisations.

Resources
Books, reports and toolkits
Find a selection of books, guides, toolkits, reports and podcasts.

Roadmapping research
IfM Centre for Technology Management
Find out more about the underpinning research and current research interests.