Roadmapping Case Studies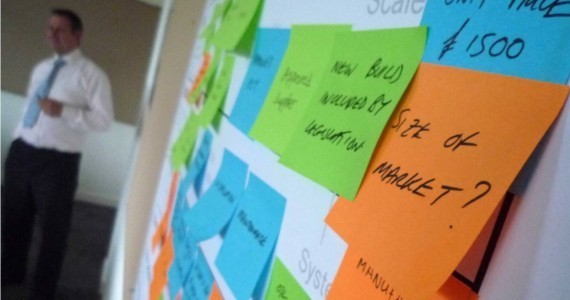 The IfM has applied roadmapping techniques to over 300 projects across the world, in organisations of all sizes, from SMEs to global corporations. The case studies below outline the range of challenges faced by organisations we have worked with and how roadmapping has been used to visualise and develop strategies.
Challenges include
To identify technology opportunities


We worked with this organisation to create a first-draft technology roadmap using our fast-start approach to roadmapping. The process highlighted the benefits of roadmapping and brought multiple stakeholders together to create a shared vision for the future.
IfM worked with the RNLI to develop a clear understanding of emerging technologies that will impact on future search and rescue operations at sea.
See the RNLI report the 'Third Dimension for Search and Rescue'.
This organisation was sponsoring the development of a new technology with significant commercial application in its sector and beyond. Roadmapping helped to develop a clear understanding of its likely commercial path, and an understanding of the risks and decision points required for development and implementation.
We worked with Subsea 7 to make a step-change in the pace of innovation development.
We supported GKN to develop its technology and innovation strategy across four divisions, with a particular focus on planning for disruptive technologies and high value innovation initiatives.
---
Align strategy with customer needs


We helped John Hogg to re-evaluate their business strategy and review process and helped them create a roadmap to achieve their ambitious growth and development plans
We worked with a unique Africa's Voices Foundation, a Cambridge University spin-out charity, to help it develop its medium-term strategy.
---
Develop a sector strategy

Cross-sector roadmap for the rail industry
The Rail Safety and Standards Board (RSSB) worked with IfM Education and Consultancy Services (IfM ECS) to create a cross-industry roadmap for health and wellbeing.
Academics and industrialists worked together to align bulk superconductivity research with current and future industrial needs.
89 participants from across 44 organisations participated in this one-day workshops to identify data measurement challenges and explore research project ideas.
---
Develop a long term technology strategy
Global heavy industry manufacturer IHI Corporation is benefitting from better goal alignment and increased dialogue across departments within the company as a result of integrating roadmapping into its business planning strategy.
Roadmapping has helped a global manufacturing company resolve a lack of strategic alignment between its business goals and longer term technology research.
The process involved eight workshops, with more than 150 participants from across the whole of the rail industry, to identify and explore over 200 application options, consolidated into 64 strategic projects
---
To assess the benefits of roadmapping
This case study explores some of the benefits of roadmapping and the challenges organisations face in ensuring they are realised.
---
IP strategy development
A strategic intellectual property workshop enabled a transformational and growth-ambitious technology business to develop an IP strategy that is aligned to its business strategy whilst maximising value creation and capture.
The approach used in this case study uses tools and research for IP strategy development.
---
Other examples of roadmapping in action:
Exploring ways to improve outcomes across the patient journey, create outline ideas for future research and service-development projects.
High Value Manufacturing at Alconbury Enterprise Campus
Roadmaps and Recommendations
Roadmapping Workshop for the EPSRC Centre for Innovative Manufacturing in Ultra Precision
The Road4FAME project has developed a strategic research and innovation roadmap for IT architectures and services in manufacturing.
This roadmap underpins the common vision and strategy of industry and government working together to develop export-led growth.
Roadmap for EPSRC Centre for Innovative Manufacturing in Ultra Precision
Identification of new and evolving manufacturing applications
Roadmap for EPSRC Centre for Innovative Manufacturing in Large-Area Electronics
Commercialisation potential of algae-related products, processes and services
Strategy and priorities needed to achieve the industry's vision
The future of synthetic biology in the UK
Collaboration and leverage towards the UK 2035 landscape
Fundamental and early stage applied research in engineering and materials.
Pharmaceutical, Biopharmaceutical and Medical Device Sectors
Working with Shell, Kazakhstan to develop a national technology & R&D roadmap.
Follows on from a study into the future of High Value Manufacturing.
This study sets out to understand the global manufacturing context in which UK companies must compete and how that context is expected to evolve over the next 15-20 years.
Mapping the next 30 years of the Australian rail industry.
A shared vision to be the best place to develop, and adopted, stratified medicine.
UK Marine industries roadmap and capability study
The roadmap will help to prioritise future research support options to maximise economic growth of UK marine companies.
Foresight Vehicle technology roadmap for the UK automotive sector
The first Foresight Vehicle Technology Roadmap was developed to identify technology and research themes for road transport, aiming to support UK industry in the globally competitive market for transport products and to provide sustainable mobility for UK citizens. Further details are available here.
Automotive Australia 2020 Project
The AA2020 Australian Automotive Roadmap was completed in 2010, focusing on the future opportunities and capabilities for the automotive supply chain in Australia, and investment priorities for the $1.3 billion Green Car Innovation Fund. The process involved multiple workshop, with more than 220 participants from 160 organisations, including vehicle producers, automotive suppliers, research organisations and government agencies.
Supporting documents:
Computational science roadmap, Coordinated by Microsoft
Further details are available here.
International roadmap for packaging
Further details are available here.
UK Ministry of Defence roadmapping guidance
Further details are available here.
UK National Measurement Institute technology roadmaps, coordinated by NPL
Further details are available here.
UK automotive supply base roadmap
Further details are available here.
WiSEN wireless sensors technology roadmap
Further details are available here.
BioProcessUK technology roadmap
Further details are available here.
Centre for Abuse & Trauma Studies (CATS), route map for children's social care safeguarding services.
Further details are available here.
Green chemical technology roadmap
For further information please contact:
Robert Driver
T: +44 (0)1223 748263
Share This