GKN - a strategic direction for technology development - (2008)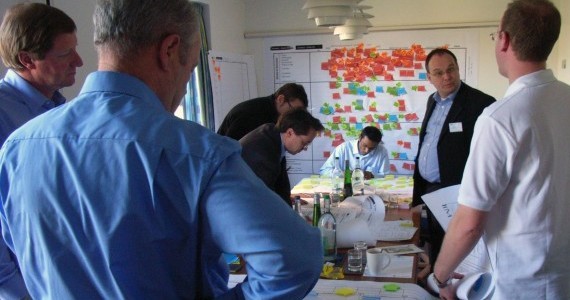 At a glance
In the first corporate wide application of roadmapping, in 2008 IfM supported GKN to develop its technology and innovation strategy across four divisions, with a particular focus on planning for disruptive technologies and high value innovation initiatives.
GKN is one of the UK's largest manufacturing companies, with around 48,000 people working in its companies and joint ventures in more than 30 countries and an annual turnover of almost £7 billion.
---
Background
GKN had four divisions:
GKN Driveline – making products for the automotive sector
GKN Powder Metallurgy – develops and manufactures powder alloys used to make precision components for engines, transmissions and body and chassis applications
GKN Aerospace – making products for the aerospace sector
GKN Land Systems – making products for sectors including agritechnical, construction, mining and utility vehicles
Like many large manufacturing businesses operating in the 1980s and 90s, GKN had a single, centralised R&D facility across all of its four divisions. However, it found that over time the central R&D resource became increasingly remote from the divisions it was supposed to support and would often choose projects that furthered its own agenda. Recognising that this model was no longer working, GKN closed its main R&D centre and set up four new ones, one within each of its divisions.
GKN had been working with IfM and IfM ECS on its technology management for some time but the relationship became much closer after it had set up the four separate R&D centres, particularly in the area of technology strategy and roadmapping. GKN also recognised the need to increase its planning horizons from, typically, three to five years to 15 to 20 years.
An initial roadmapping exercise took place for each of the four businesses. However, the results were not consistently applied across the organisation so GKN decided to try again, this time with a view to embedding it within its technology planning functions. The process was managed at the corporate level to ensure consistency and to generate outputs that would inform GKN's annual strategy planning and budgeting cycle.
Developing a cross-divisional technology strategy
A workshop brought together the top 60 technologists from across the GKN group to develop new roadmaps for each of the business units and to look at related areas of activity that GKN could expand into using its existing technology capabilities.
Dr Rob Phaal said: "Getting the technologists together was itself a massive logistical challenge, only achieved by piggybacking onto GKN's global technology conference. The process was designed so that each division would focus on its own strategic development but there were also cross-divisional sessions to ensure that potential synergies were identified and taken up. Innovation opportunities certainly emerged as a result of the cross-fertilisation in the process."
Planning for new technologies
One of the key objectives was to identify new market trends, when they might impact on GKN – and how long GKN would need to respond.
---
Example – commercialised fuel cells for cars
If cars are to become completely electric, the impact on GKN's drive shaft business will be profound. One of the areas the group considered was the earliest possible date that commercially viable fuel cells might become available and how long GKN would need to prepare for that eventuality.
---
Picking winners

A mass of data emerged from the workshop which needed to be prioritised, so the same group of technologists took part in a number of iterative brainstorming sessions to refine the thinking and pick some winners. IfM ECS provided the methodology and facilitation to test the assumptions made in the roadmap to ensure its robustness. Strategic filters were then applied to the chosen projects to ensure they were aligned with the company's strategic vision. Multiple innovation opportunities were taken forward, with one progressing to become a new business line.
"While roadmapping proved to be a powerful and flexible technique for strategic planning and innovation, a principal benefit is the communication it has engendered, both during the development of the roadmap and afterwards. The "hands-on" nature of the workshop-based process is a key feature, where the group is responsible for building a common visual representation of their strategic context, issues, goals and plans. Roadmaps can be used as a common reference point and language to support the ongoing dialogue that is essential for effective innovation and strategy development and implementation."
Graham Chisnall, Director of Corporate Strategy at GKN
---
Resources
Finding a strategic direction for technology at GKN: technology management toolkit - Pure Insight interview with Graham Chisnall.
Further details
For further details about how we can support your organisation, please get in touch.
For further information please contact:
Dr Rob Phaal
T: +44 (0) 1223 765824
Share This