Open courses at the IfM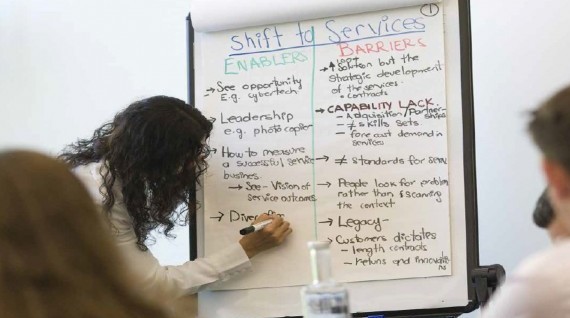 Our focused one- to three-day courses develop knowledge and practical skills to extend delegates' capabilities and have an immediate impact in the workplace. They introduce delegates to the IfM's tools and techniques and show them how they can be put into practice in highly interactive, hands-on, workshop-style courses.
We run these as open courses in Cambridge, giving delegates the opportunity to share ideas and network with people from different sectors. Many of these can also be run in-house, tailored to your particular organisation's needs.
I'm now much clearer on how we can take practical steps to ensure we achieve our aims in this area [servitization]. The IfM team were clearly experts in the field and did a great job of taking us on the servitization 'journey'.
Domino Printing delegate
Wholly relevant and recognisable with useful tips and reminders of differences in mindsets/practices between corporates and start-ups.
Scott Bader Company delegate
Very engaging and grounded in reality.
Ricardo UK Delegate
The course overall presented some real food for thought and I shall certainly use the tools to more rigorously prioritise our current projects. It was very worthwhile for me.
de Beers delegate
Click here for a list of our open courses, with full details and booking instructions.
Or download a copy a copy of our Course Directory

IfM Education and Consultancy Services Limited is a wholly owned subsidiary of the University of Cambridge, IfM Education and Consultancy Services Ltd, The Old Schools, Trinity Lane, Cambridge, CB2 1TN. Company registration no. 3486934 VAT registration no. 711 610287