Automotive sector case study
Project aims
This sector study was commissioned by the Northwest Automotive Alliance (NAA) to help vehicle manufacturers in the North West of England, and their tier 1 suppliers, address some of the challenges facing the automotive sector in general, and this region in particular. The findings were used to inform a supply chain improvement and strategy development process for the region.
Approach
The industrial ecosystem mapping techniques included a review of the previous literature on network structure, workshops, interviews and site visits with all the main vehicle manufacturers and tier 1 suppliers in the region, and data collection and analysis. This approach led to a clear understanding of the firm and tier 1 supply chain and its challenges, the strengths and weaknesses of the sector as a whole and the strategic priorities to be addressed.
Key findings
The study highlighted a set of priorities resulting from: a changing strategic and technological context as key business and operational functions become ever more globally dispersed; the difficulties caused by tier 2 suppliers being located outside the region; the importance of tier 1 and 2 technology companies that are changing industry structures and capabilities; and a continuing reliance on international markets for growth. The mapping process also identified important gaps in value network capabilities, including a lack of regional innovation strategy, a need for tier 1s to improve their business processes and a major skills shortage at graduate engineer and senior technician level.
Recommendations
The report made a number of key recommendations, including that the automotive sector in this region would benefit from institutional support to mitigate the effects of economic downturn. It also recommended that the skills and activity gaps it had identified could be addressed by introducing a number of measures, such as: putting in place a supply chain capability development programme; developing new value networks specifically to target those market segments which have potential for high growth; and addressing sustainability issues by setting up projects to look at more efficient use of resources and the implications of climate change for the automotive sector.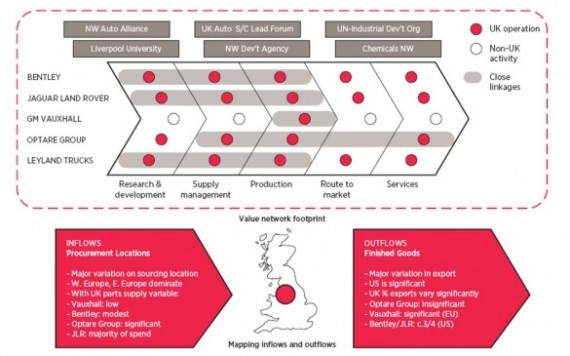 Mapping the industrial ecosystem for the automotive sector in NW England


For further information please contact:
Contact details
T: +44 (0)1223 766141
Share This