Digital Supply Chains Consortium
The Digital Supply Chains Consortium is a unique collaboration between industrial member companies and the Institute for Manufacturing. It brings together some of the world's leading firms and academics, all of whom are focused on delivering the tools, education and insights needed for the supply chains of the future.
The consortium provides members with the chance to:
share experience and best practice amongst like-minded strategists;
access the latest frameworks and tools to guide capability development in digital supply chains technologies and skills;
undertake pilot projects (optional) that develop and embed those capabilities to enable transformation of their digital supply chains.
Scope
The Consortium covers the ten future digital supply chain scenarios developed by the Institute for Manufacturing. These scenarios were designed with insight from a range of multinational companies concerning their latest experiences of the impact of digitisation on global manufacturing and supply networks. The diagrams below outline these ten scenarios.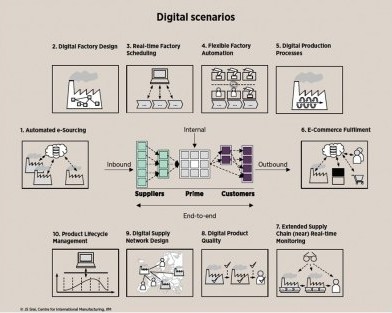 Benefits of membership
Consortium members benefit from:
Annual re-assessment of your company's maturity level in digital supply chains technologies and skills, conducted in-company (1 day workshop) leading to tailored transformation plans.
Contribute to and learn from other members' experiences, taking part in annual face-to-face meetings (September) and teleconferences (January, April and July).
Receive updates on the latest IfM research as well as access to emerging frameworks and tools you can apply to your business
Be part of shaping future research themes and involved in research case studies
Member Projects (Optional):
Members of the Consortium also have the option to work on co-development projects which are individually tailored and managed independently. These projects will involve joint member/IfM teams of practitioners and researchers. Through these projects we will work with members to co-develop and embed digital supply chain capability into their organisation, transforming their operations with real business impact.
For further information please contact:
Contact details
T: +44 (0)1223 766141
Share This