Making the Shift to Services
Drawing on the latest work from the Cambridge Service Alliance, this thought-provoking and practical two-day workshop considers how to design the shift to services.
Course overview
Customers increasingly demand services and solutions, not just products. For companies this can be an opportunity to increase their revenues and develop long-term relationships with their customers.
Service offerings are often complex and need a detailed understanding of, and solid approach to, design if they are to satisfy customers and generate revenues. this course provides a holistic view of how to design, develop and integrate services into an organisation.
What you will learn
Consider key questions that are vital in the creation of any new service, including: What will be offered and how? What are the risks? How do we deliver and create – as well as capture – value?
How to design services that satisfy your customers and create new
revenue streams
How working with partners can help to deliver successful services
Change your organisational thinking to support service delivery
Use new technology and big data to develop innovative services and solutions
Who should attend?
General managers and directors
Service directors
Operations managers and directors
Business development and sales managers
Technical managers and service engineers
Global operations and service delivery managers
Design and innovation managers
Course tutors
The tutors have a highly engaging and interactive teaching style. The team has delivered workshops to a host of clients in the public and private, manufacturing and service sectors.

Professor Andy Neely is Pro-Vice-Chancellor: Enterprise and Business Relations at the University of Cambridge and former Head of the Institute for Manufacturing (IfM) and of the Manufacturing and Management Division of Cambridge University Engineering Department. He is a Fellow of Sidney Sussex College and Founding Director of the Cambridge Service Alliance. He is widely recognized for his work on the servitization of manufacturing, as well as his work on performance measurement and management. Previously he has held appointments at Cranfield University, London Business School, Cambridge University, where he was a Fellow of Churchill College, Nottingham University, where he completed his PhD and British Aerospace. He was Deputy Director of AIM Research – the UK's management research initiative – from 2003 until 2012 and was elected a Fellow of the British Academy of Management in 2007, a Fellow of the Academy of Social Science in 2008 and a Fellow of the European Operations Management Association in 2009.

Dr Florian Urmetzer is a Senior Researcher in the Cambridge Service Alliance and is known for his work concerning emotions in services and value delivery. Prior to joining the University of Cambridge, Florian worked for Accenture as a consultant in Switzerland and as well for Volkswagen, IBM and SAP Research.

Dr Veronica Martinez is a Senior Researcher in the Cambridge Service Alliance. Her work focuses on making and sustaining the shift from products to services. Before her academic career she worked in the automotive industry, and has worked with organisations including Daimler-Chrysler, Peugeot , Fidia and Highland Spring.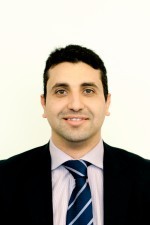 Dr Mohamed Zaki is a Senior Researcher in the Cambridge Service Alliance. His work focuses on big data and its influence on business models. Other research interests include information governance, business intelligence and big data analysis.
More information
Download a copy of the course flyer.
Bespoke programmes
This short course can be run in-company, at a location of choice, for organsiations that would like to train multiple employees on the content. We can tailor content to meet specific organisational requirements to further enhance the learning experience. Please contact us for further information (email - ifm-events@eng.cam.ac.uk or call +44 (0) 1223 766141).
Continuing Professional Development (CPD)
This event may contribute towards your Continuing Professional Development (CPD) as part of the your professional institution's monitoring scheme.
University of Cambridge endorsement
IfM open courses are endorsed by the Board of Executive and Professional Education.

Key details
Duration: Two days
Cost: £1800 plus VAT to include all daytime refreshments and course materials.
Earlybird fee: £1620 plus VAT (until one month before the course)
Location: Institute for Manufacturing (IfM), Cambridge (view map and directions)
IfM members and alumni are entitled to a 10% discount off the course fees. For details of our membership scheme see click here.
Booking
For further information please contact:
Jo Griffiths
T: +44 1223 766141
"The collaborative work created opportunities to learn different perspectives"

"The tool set provided is practical and useful"

"Great overall process of understanding how to develop new business opportunities and understanding the customer perspective"

"A key learning for me was how to take a structured approach to fleshing out and refining a new service or existing service"