Smart specialisation
Smart specialisation can help your region participate in today's highly competitive global environment by taking advantage of your distinctive industrial and innovation strengths.
What is smart specialisation?
Smart specialisation aims to promote more strategic approaches to regional innovation and economic growth by concentrating resources on those activities that are likely to effectively transform the existing economic structures through R&D and innovation.

This approach calls for strategies that identify a limited number of priorities based on the recognition of the region's distinctive industry structures and knowledge bases. It also emphasises the need to ensure that activities are fully integrated in local value chains and promotes the use of enabling technologies that can transfer and add value between related sectors.

However, recent assessments have revealed that the effectiveness of regional innovation strategies have been hindered by selection of priorities that are too generic or that do not appropriately take into consideration the local context. Regions struggle to clearly identify and articulate what makes them really distinctive and often resort to replicating the priorities selected by others, without necessarily having the capabilities to support them.



A new

approach
To address these issues, the IfM's Policy Links team and researchers from the Centre for Science, Technology and Innovation Policy have designed a new approach to smart specialisation in collaboration with the UK Department for Business, Energy and Industrial Strategy (BEIS).
This novel approach is grounded on the recognition of the structure and dynamics of modern industries and technologies. It provides a simple yet highly structured approach with the potential to guide not only more systematic statistical analyses but also more effective engagements of the local industrial and innovation communities.



How can it help you?
As piloted by the East of England's Agri-tech cluster, this new approach can help you to:
arrive at a clear understanding of what makes your region distinctive
visualise how different organisations and stakeholders fit wtih and complement each other
recognise the role of technology-led firms that are often critical to your specialist industry but are often not accounted for in the sector statistics
highlight the critical role of intermediaries in the translation of knowledge from the science and research base into industry
identify promising opportunities for specialisation and future value capture which the region is particularly well placed to pursue.
"The structured methodology of the event provided a valuable focus to discussions. As a result, the output from the day felt that it had really captured the essence of the regions strength in agri-tech." Lead Technologist - Agriculture and Food, Innovate UK
Who is it for?
regional development authorities
cluster management organisations
regional innovation practitioners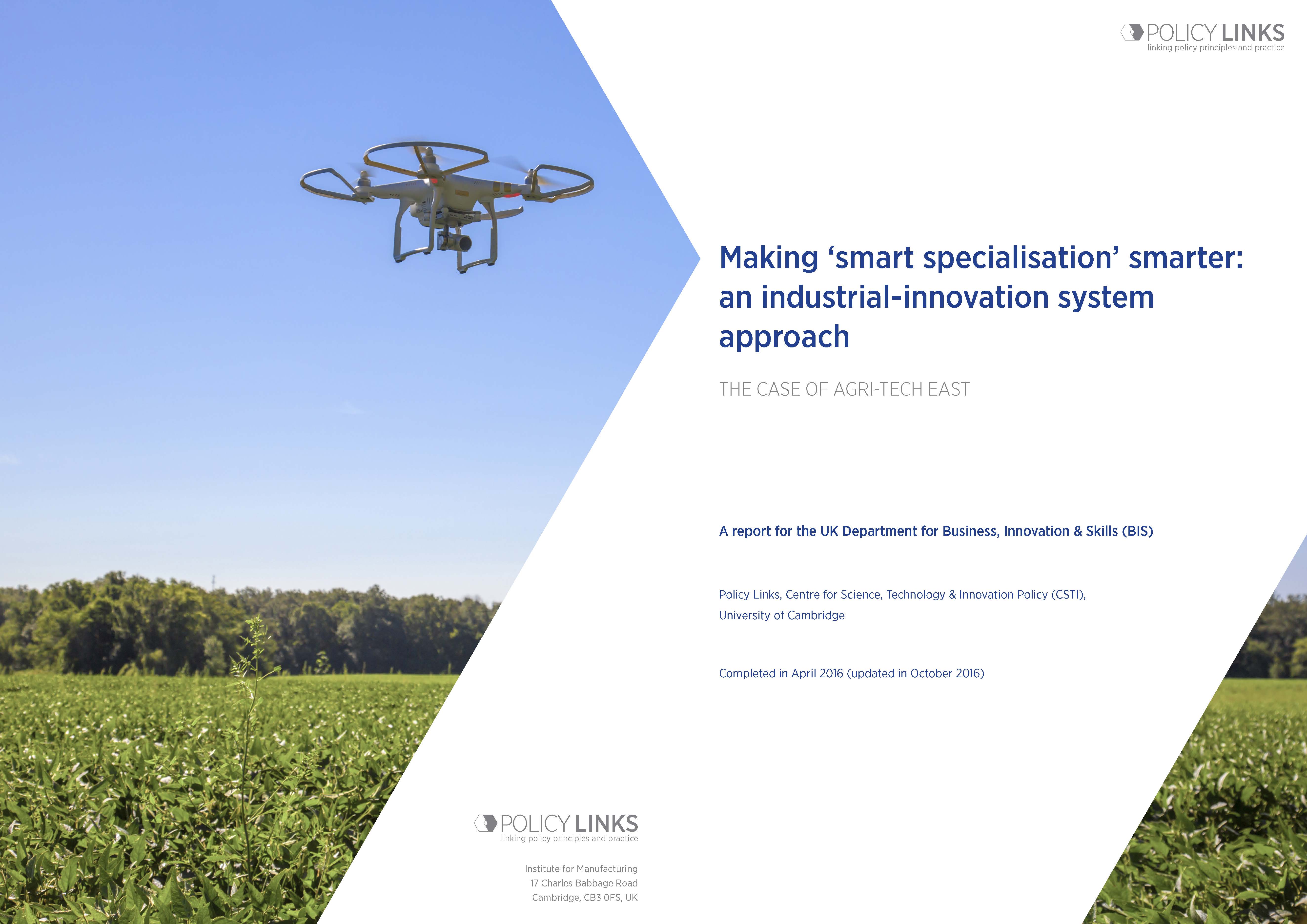 For a full report of the project carried out in the East of England, please click here.
To find out more about smart specialisation and to discuss the ways in which you can implement it in your own region, please contact the Policy Links team.
---
Find out more about the ways in which the IfM engages with national, regional and local policymakers to develop joined-up industrial strategies
For further information please contact:
Dr Carlos Lopez Gomez
T: +44 (0) 1223 764657
Share This