Fast-start Roadmapping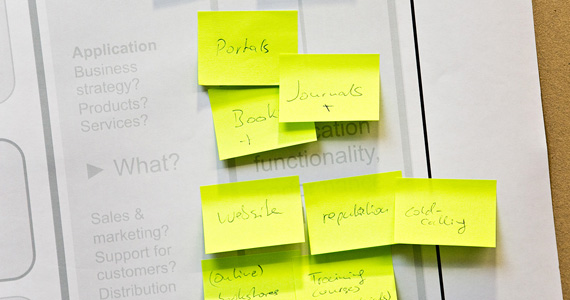 Find out about fast-start approaches to roadmapping - Strategic plan (S-plan) and Technology plan (T-plan).
An agile approach to product and strategy development
Rapid changes in technology, regulations, competition and demand mean that it's more important than ever for organisations to be able to respond to external changes and adapt quickly. To support organisations in this context, a roadmapping process needs to be efficient, dynamic and support agile approaches to product and strategy development.
IfM's fast-start approaches to strategic and technology roadmapping - Strategic Plan (S-Plan) and Technology Plan (T-Plan) - help organisations take the first step into roadmapping with minimal resource and time commitment, thus adopting a lean and agile rapid prototyping approach to strategy development. These approaches (developed through the research of Dr Rob Phaal and his colleagues) have been influential in the propagation and uptake of roadmapping internationally.
Benefits of fast-start roadmapping
Workshops are short in timespan (usually 1 – 2 days) and require relatively low resource and time commitments early in an organisations roadmapping journey.
The process is undertaken in a rapid prototyping way, so the organisation learns from and starts to tailor the approach to their needs.
Workshops have a focus on current concerns, using the approach as a diagnostic or problem-solving tool to improving the likelihood of 'quick wins'.
These 'quick wins' help to get stakeholders on board with the process.
Mapping available knowledge and views helps to identify gaps in knowledge, together with issues and risks that require action.
The fast-start approach avoids the danger of over complicating and bureaucratising the roadmapping process, which is a common pitfall and a reason why many organisations flounder.
Provides a valuable learning opportunity as a first step towards implementing a tailored and sustainable process within an organisation.
The process is compatible with established agile development and lean innovation approaches, being efficient to deploy in visual management systems.
'Treating a roadmap as a fixed project plan is dangerous…. A roadmap should be considered as a type of 'radar', looking forward in order to improve understanding, communication, build networks, capture knowledge, make decisions, agree priorities and take actions, steering the organisation into the future.'
Taken from the book Roadmapping for strategy and innovation, aligning technology and markets in a dynamic world, by R. Phaal, C. Farrukh and D. Probert.
Strategic Plan (S-Plan) Roadmapping
Used to create business unit, corporate, sector or policy roadmaps
The S-Plan process is appropriate for application at a high level, with the ability to rapidly cover a broad scope ('landscape') identifying, prioritising and exploring key issues, strategic options and innovation opportunities, leading to decisions and actions.
Typically, workshops will involve between 15-25 participants (although more are possible with careful design and a team of facilitators)
S-Plan is usually carried out in a 1-day workshop and consists of four main steps:
Strategic landscape: the business as a whole is considered, using the roadmap framework to capture information from all the process participants as well as the identification and prioritisation of value elements within the landscape.
Selection of value elements (i.e. innovation opportunities or strategic topics) for further exploration.
Topic exploration: the roadmap framework is used in small groups to explore and define each value proposition (or innovation opportunity) in greater detail and map out how they can be achieved.
Way forward: topics are presented for discussion to identify and /or agree a way forward (e.g. regarding strategic actions emerging from the roadmaps).
Case study - find out how the Royal National Lifeboat Institution used roadmapping to develop a clear understanding of the current and emerging communications technologies that will impact on future search and rescue operations at sea.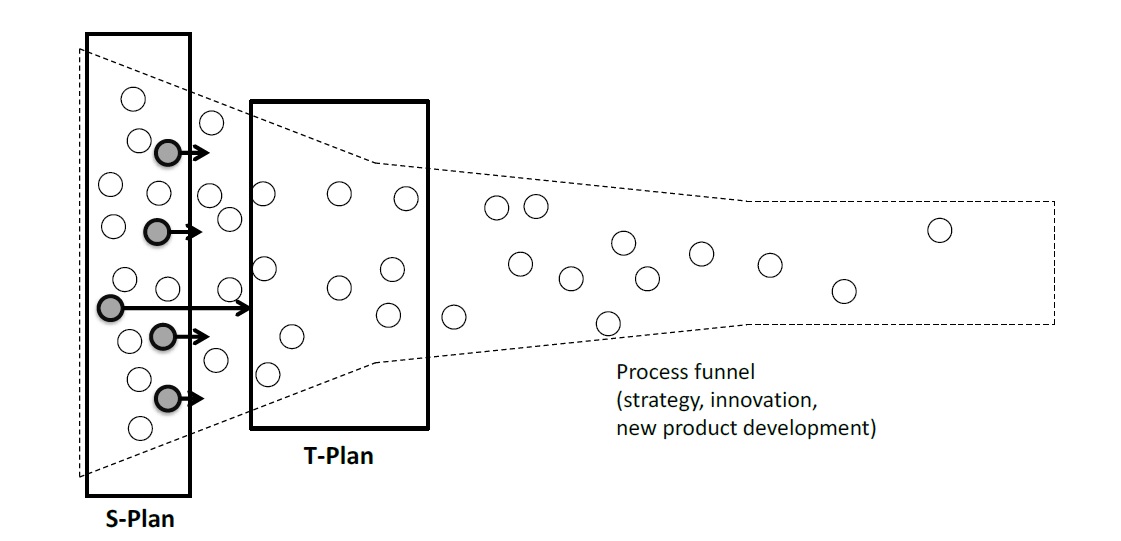 Technology Plan (T-Plan) Roadmapping
Used to create product, service and technology roadmaps
The T-Plan process helps to ensure that technology decisions and developments are aligned with product/service plans, and that the product plans fit with business and customer needs.
The approach helps organisations to:
Support the start-up of product / service / technology roadmapping processes.
Establish linkages between technology resources and business drivers.
Identify gaps in the market, product and technology intelligence.
Develop a 'first-cut' product-technology roadmap.
Support communication between technical and commercial business functions.
Support technology strategy and planning activities.
Align with broader strategy initiatives through combining T-Plan with S-Plan.
The process brings together 8-12 participants from across the organisation to develop a draft roadmap for a product (or product family), in four workshops:
Market: Looking at external market and internal business drivers, categorised and prioritised for key market segments. Business strategy is reviewed and knowledge gaps are identified.
Product: potential product features, functions and attributes are identified and prioritised with respect to how strongly they address the drivers. Product strategy and knowledge gaps are identified.
Technology: Potential technology solutions for developing the product features are identified and prioritised and knowledge gaps identified.
Charting: based on the outputs from the first three workshops, the initial roadmap is developed, linking market, product and technology perspectives, decisions are made and actions agreed, aligning commercial and technical perspectives.
Case study - See how a leading liquid repellant technology supplier used the T-plan to create a first-draft technology roadmap for their business
---
How can we help you?
If you would like to discuss how roadmapping can help your organisation, please contact us to arrange a call with a member of the IfM Education and Consultancy Services team.
Find out more:
For further information please contact:
Robert Driver
T: +44 (0)1223 748263
Share This