Prioritise and select innovation projects
In the early stages of technology or innovation projects it is often necessary to prioritise and select which projects to invest in and which ones to discount when only limited information is available.
The IfM's practice-oriented Portfolio Prioritisation approach provides a scoring framework to help make the best use of the information available at an early stage. The tool is quick to use and can be customised to evaluate the opportunity and feasibility of projects in different contexts. The process involves assessing projects against a number of appropriate factors so that more robust decisions can be made.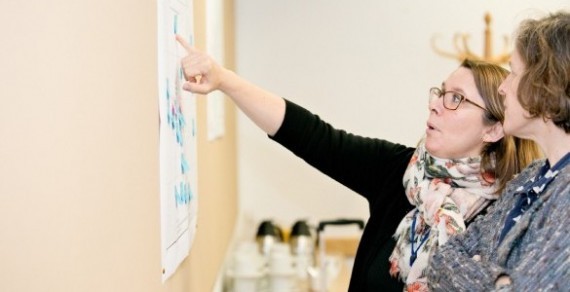 Are you trying to make investment decisions on early-stage innovation projects?
Ideally, to select a new project, a full business plan would be created and those that would make the best contribution to the bottom line are selected. But often, and especially for projects in their early stages, there may simply not be enough valid information to do this, and time and resources are limited. And yet decisions often have to be made, anyway.
The Portfolio Prioritisation Tool is:
Objective – score projects based on appropriate criteria so the decision-making process is fair, transparent and avoids cognitive bias
Flexible – revise and adapt the process easily creating new scoring criteria for different contexts
Efficient – reduce the time spent debating which projects to select and arrive at an agreed outcome.
Considered – accounts for wider management issues when selecting projects
"The structure of the tool and the anchoring statements makes for much more concrete discussions than we used to have. We get a lot of "buy-in" from this process"
Hans Jørgen Klein, Head of the Production Technology Department, Grundfos
The process
The tool is applied in a short workshop where participants work through a sequence of stages to achieve a prioritised list of projects.
The process helps users to design a set of appropriate scoring criteria for any particular context and considers:
the importance of treating measures of opportunity and feasibility separately
how to choose the factors
how to ensure that the scoring is as logical and objective as possible
how to manage the scoring process carefully to avoid cognitive biases
how to include the inevitable uncertainty
insights into how to manage the process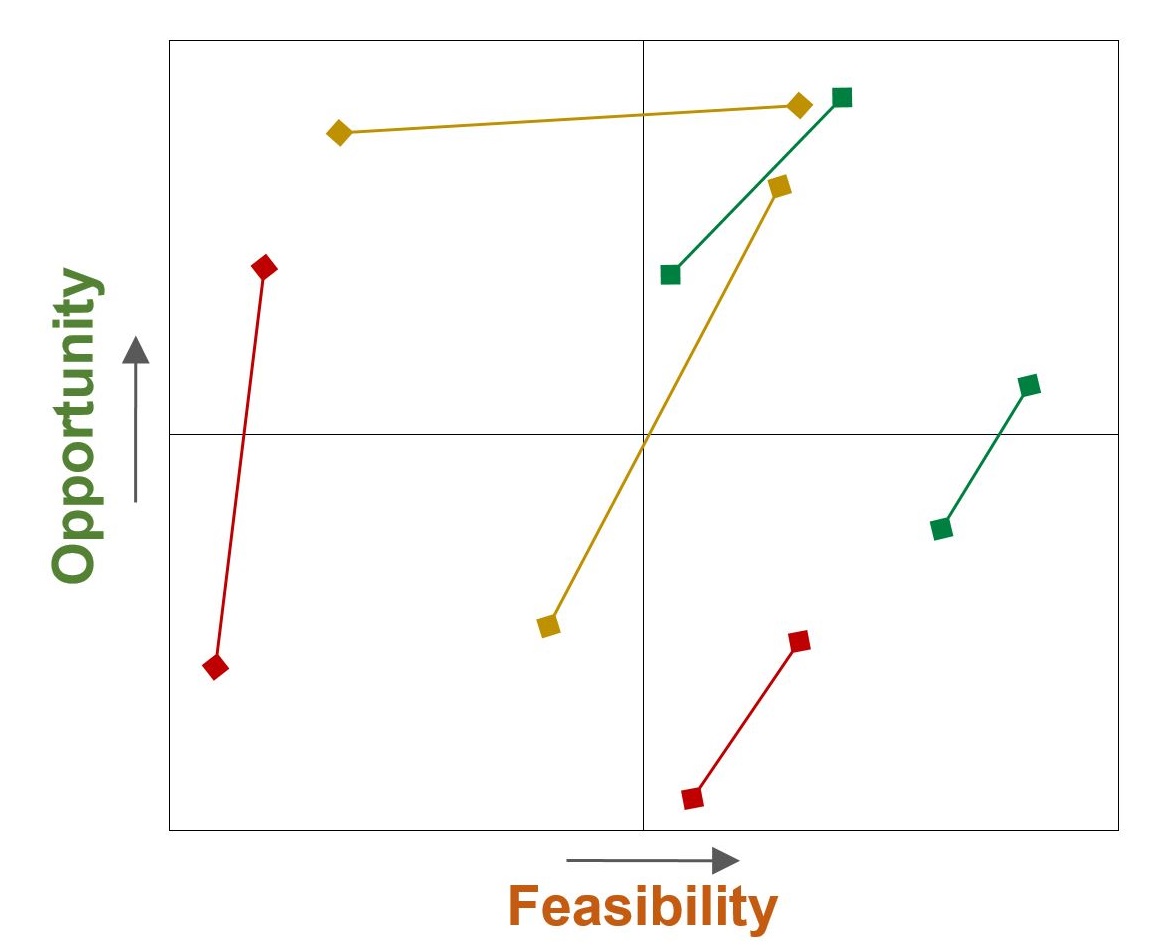 The tool uses a multi-factor scoring method to determine a project's best and worst case opportunity and feasibility score. The results can then be plotted in different ways to help the decision process (see example figure, right).
The principle is that, other things being equal, the highest-scoring projects (top right quadrant) will be the ones chosen for implementation.
Figure: opportunity-feasibility scoring ranges visualised [Source: Working Paper]
For a more detailed explaination of the tool watch this video by Kate Willsher, Chief Operations Officer, IfM Education and Consultancy Services.
Proven approach
This tool has been tried and tested in companies of all sizes.
Grundfos used the portfolio prioritisation process to provide clear and objective criteria to enhance decision making. Read the Grundfos case study.
The Portfolio Prioritisation Tool described is often used in conjunction with other tools to improve the quality of information and decision making. For example, project and portfolio selection methods are often used in conjunction with roadmapping, which helps to identify innovation opportunities, provide context, and also to elaborate the details of particular options to aid their evaluation.
The Nuclear Security (NuSec) Science Network and Atomic Weapons Establishment (AWE) used the S-Plan roadmapping process and portfolio prioritisation tool to assess and select alternative technologies for radiation sources for well loggers in the energy industry. Read the NuSec and AWE report.
---
How can the IfM help you?

Consultancy – IfM ECS's team of Industrial Associates can design and facilitate portfolio prioritisation workshops for your organisation.
Contact Dr Nicky Athanassopoulou to discuss your requirements:
T: +44 (0) 1223 760376
E: naa14@cam.ac.uk

Knowledge Transfer Courses - Researchers and practitioners in the IfM's Centre for Technology Management run a series of open and bespoke courses on technology management techniques.

Research – find out more about the underpinning research and current research interests from the Centre for Technology Management.
---
Further reading and resources:
For further information please contact:
Dr Nicky Athanassopoulou
T: +44 (0) 1223 760376
Share This