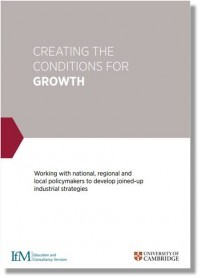 Supporting a thriving industrial sector in which science and technology can be translated into sustainable economic growth is a major preoccupation for governments around the world. Countries want to understand how industrial innovation can be more reliably harnessed to create and capture value. We can work with you to develop industrial strategy based on a real understanding of the global context, the opportunities that it presents and how they relate to your national priorities and industrial strengths.
IfM ECS has a team of experienced consultants who have worked with government and government agencies at the national, regional and local levels both in the UK and around the world to support industrial innovation. We use powerful methods, developed by IfM researchers, to identify opportunities for growth, understand which capabilities and competences are needed to make the most of those opportunities and to put in place plans that will bolster existing capabilities and, where appropriate, develop new ones.
Among others, we have worked with:
At the national and regional levels
| | |
| --- | --- |
| | The UK Government and Technology Strategy Board to help define its high value manufacturing strategy. |
| | The Liverpool City Region in the UK to identify how to achieve both long-term competitive advantage and short-term 'quick wins' through its industrial strategy. |
| | The State of Yucatán in Mexico to develop a strategy for industrial growth and job creation. |
Sectors
| | |
| --- | --- |
| | The UK Government to roadmap more than 15 key sectors, such as automotive, rail, marine and oil and gas. |
| | Leading UK pharmaceutical companies and the University of Strathclyde to reconfigure the UK's supply chains. |
| | The Australian Government to define the future for its automotive and rail industries. |
| | Chile's Antofagasta region to develop strategic roadmaps for its mining and food production industries. |
Technologies
| | |
| --- | --- |
| | The European Union, through its Factories of the Future public-private partnership programme, to develop a roadmap for IT architectures that will support innovation in manufacturing. |
| | The UK Government to roadmap technologies such as synthetic biology and robotics and autonomous systems which can support growth within a range of UK sectors. |
To find our more, download our brochure, or please contact Peter Templeton, E: pwt23@cam.ac.uk or complete the form below.
---
Related links
The Institute for Manufacturing is activity involved in both research and practice, with more than 200 roadmapping applications in a diverse range of sectors and contexts. Our specialised workshop techniques have been developed to support roadmapping at both firm and sector levels.