Overview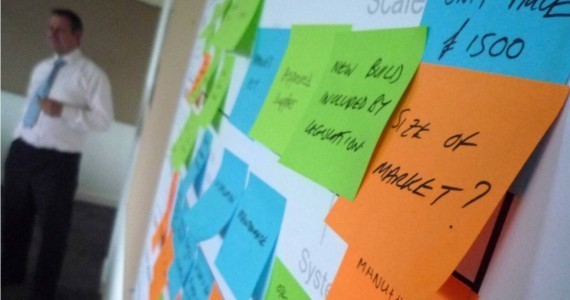 The IfM is a world centre of excellence for roadmapping. It has been researching the application of roadmapping for more than a decade and its techniques have helped more than 250 public and private sector organisations with their strategic and technology innovation planning.
What is roadmapping?
Roadmapping is a powerful technique – pioneered by Motorola in the 1970s – for planning an organisation's technological capabilities to ensure they meet its commercial or strategic goals. The graphical nature of roadmaps supports strategic alignment and dialogue between functions in the firm and between organisations.
It is a very flexible approach that can be customised to address the particular strategic needs and issues facing firms, government agencies and other organisations. No two roadmapping exercises are the same but workshops typically form a key part of the process. They bring together a group of experts and, using a set of graphical templates, help them visualise and develop strategies.
How can it help you?
Roadmapping can help you arrive at a shared vision of your organisation's future and an understanding of the key steps needed to realise that vision, presented in a way that is readily accessible to all your staff and stakeholders.
Roadmapping at the IfM
We offer roadmapping services through our knowledge transfer company, IfM Education and Consultancy Services (IfM ECS). IfM ECS can run roadmapping projects on your behalf or train you to run your own.

Consultancy – IfM ECS's team of industrial fellows design and facilitate roadmapping projects for your organisation.

Open courses – Dr Rob Phaal and his colleagues run a series of workshops on roadmapping techniques.

Executive education - bespoke in-company training courses, tailored to your organisation's needs.

Resources – books, newsletters and toolkits to support your roadmapping activities.

Case studies – read how IfM ECS has helped organisations achieve their strategic goals.

Research – find out more about the underpinning research and current research interests.
Our industrial fellows have worked with a wide range of multinational companies, governments, and public sector organisations including:
ABB l Airbus l AkzoNobel l Astra Zenica l Astrium l BAE Systems l BASF l BOC-Linde l BP l BT l Caterpillar l Crown Packaging l Cryovac l Domino Printing Sciences l DSTL l ESAB l Eurotherm l GE Healthcare l General Mills l GKN l Grundfos l GSK l Henkel l Huntsman l Ineos l Malvern Instruments l Mars l Microsoft l Proton l Rexam l Rolls-Royce l Royal Mail l Schlumberger l Siemens l Sulzer l UK Department of Transport l Knowledge Transfer Networks l Ministry of Defence l Technology Strategy Board l
If you would like to make an enquiry, please find our contact details here.