From Research to Economic Impact: Designing Modern RTO Strategies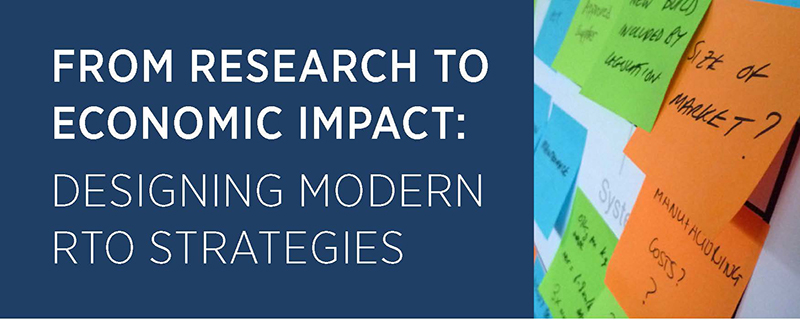 8 - 9 November 2017, IfM Cambridge
This course equips managers of research technology organisations (RTOs), innovation agencies and related institutions with innovation concepts and visual tools to better align their missions and services.

Led by the Policy Links team and experts from the Centre for Technology Management (CTM) and the Centre for Science, Technology & Innovation Policy (CSTI), this course is based on taught sessions as well as practical workshop-based exercises.

The open course offers an opportunity to share experiences with colleagues with a common interest in RTOs, technology & innovation management, and national innovation systems.

Key Benefits

RTOs face a number of challenges in the context of global technological change and shifting national innovation system structures and priorities. In particular, there is increasing interest in new innovation functions and technical competencies that RTOS might need to develop to respond to those missions and goals.

This course sets out to:

Provide an overview of key concepts, frameworks and tools in technology and innovation management that can help support the work of RTOs
Introduce the latest international trends and policy developments in science, technology & innovation policy, with an emphasis on the role and functions of RTOs
Reflect on practical challenges for effective technology and innovation management and discuss best practices for overcoming them

The programme will cover practical technology and innovation management frameworks and tools, including roadmapping, portfolio methods and scenario planning, as well as a detailed view into the innovation system context of RTOs. Practical country case studies, international trends and policy direction will also be discussed.


Sessions will be interactive, including a combination of presentations, activities and discussions, suitable for participants from a range of functions and levels. Bespoke materials developed by experts from CTM, CSTI and Policy Links will be used throughout the course.


This open course offers an opportunity to share experiences with colleagues with a common interest in RTOs, technology & innovation management, and national innovation systems.
Who should attend
Managers from public research and technology organisation, technology and innovation institutes, and centres of excellence.
Innovation agency officials responsible for national and regional public R&D portfolio design and management.
Professionals from public and private sectors that would like to gain new insights from theory and international practice to complement their hands-on policy experience.
Course instructors
Dr Eoin O'Sullivan is the Director of the Centre for Science, Technology & Innovation Policy (CSTI) in the Engineering Department of Cambridge University, UK. Dr O'Sullivan's research interests include comparative analysis of national innovation systems; intermediate R&D institutes; university-industry partnership models; and emerging technology foresight methodologies.
Dr Carlos López-Gómez is the head of Policy Links, the knowledge exchange unit of the Centre for Science, Technology and Innovation Policy (CSTI). Carlos has advised various national and regional governments as well as international organisations on the topics of industrial strategy, innovation policy, and industrial development.
Dr Rob Phaal is a Principal Research Associate at the IfM Centre for Technology Management where he conducts research in the area of strategic technology management. Particular interests include technology evaluation, the emergence of technology-based industry, the use of visual techniques for strategy, and the development of practical management tools. Strategic roadmapping has been a key area of ongoing interest, in terms of both research and practice.
---
Bespoke courses

This course can be adapted to suit your specific needs, and may also be tailored to apply to people at different levels of policy making - from new starters to senior professionals. Please get in touch with us if you would like to discuss this further.

Policy Links

For further information about the areas of expertise and the services offered by Policy Links, please cilck here or get in touch with the team by emailing

Course flyer
Event location
Booking and enquiries
Cost
Two-day course: £1,800.00 plus VAT (£2,160 inc.)
Please contact us if you require accommodation for the courses.

A 10% discount is available on the above prices if you book to attend two or more IfM workshops at the time of booking.

Booking
To book using a credit/debit card please click here. Alternatively, to pay by invoice please click here.

For any enquiries please contact:

Lisa Barnett
IfM Education and Consultancy Services Ltd
17 Charles Babbage Road
Cambridge, CB3 0FS, UK
T: +44 (0)1223 766141
F: +44 (0)1223 464217
E: ifm-events@eng.cam.ac.uk

Cancellations
Substitutions may be made at any time. Bookings cancelled less than 10 working days prior to the event will be charged in full.

We reserve the right to modify the programme of any event up to the day of the event.
It may, in exceptional circumstances, be necessary to cancel or rearrange an event at short notice. IfM and IfM ECS can accept no liability for loss caused by cancellation or rearrangement. Its liability is limited to refund of the registration fee if the event is cancelled. For further information on our Terms and Conditions, please click here.
Event Timings
Start Date: 8 November 2017
End Date: 9 November 2017