Science Festival at the IfM
Saturday 22 March 2014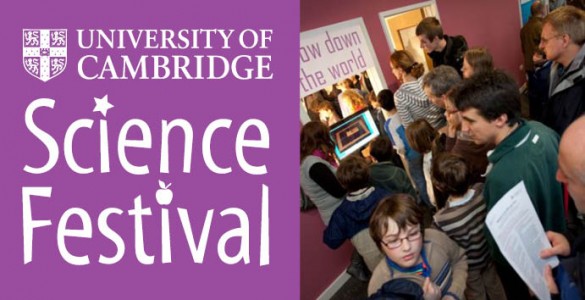 The IfM opens its doors for the University of Cambridge Science Festival. Come along to discover more about the exciting things that go on here!
All of the events listed below are open to the public from 13.00 - 17.00 on Saturday 22 March. We will operate a ticketing system for some of the activities to avoid queuing.
Laser lab tours
Get a glimpse of the latest laser technologies and find out how they are used in industry. Watch a focused ion beam etch some of the tiniest pictures and text possible. Witness lasers cutting through metals up to 30mm thick. Have your name laser engraved onto the head of a live match and try to use a laser to ignite gun cotton... it goes off with a BANG!
Event: 209, Tour, Ages 8+
Laser rocket racing
Fire lasers at mini rockets and make them speed along a wire track. Race your friends and family and see who has the best aim!
Event: 210, Ages 8+
Inkredible!
Our in-house inkjet experts will show you how they can slow down the world with their ultra high speed technology, and how their liquid jet research reveals some monstrous findings! Event: 211
FantasTech!
Enjoy a host of activities from our photonics experts, including creating your very own laser etched metal id card. You will also see a thermal imaging camera in action: use your finger to write on the wall with just your own heat or see your hot spots! Event: 212
Laser bunny hop
Hop, skip and jump as best you can to avoid setting off the alarm on the criss-cross track of lasers. Complete the course to win a prize! Event: 213
Sustainable science
Fun and interactive lessons from our experts in industrial sustainability. Event: 214, Ages 8+
What would you use THAT for?
Try out some of the latest science based products from local companies and win a prize for thinking of the best ways to use them. Event: 215
Raspberry Pi at the IfM
Meet the creators of the revolutionary Raspberry Pi low-cost computer with demos, competitions and hands on activities. Event: 216
2pm – 4.30pm Pecha Kucha challenge
Graduate students enrolled for a PhD in engineering will take on the challenge of sharing their research with you in just 6min 40 sec, using the Pecha Kucha presentation method of 20 slides each lasting 20 sec. Will they succeed? Event: 218, Ages 12+
Fully Booked - 1.15pm – 2pm, 3.15pm – 4pm It's not science fiction: it's just engineering!
Printable food? Bendable computers? Flying drones delivering your shopping? Electric racing cars? Every day, engineers take incredible ideas and make them work in the real world. This talk will show you some amazing ideas being developed in Cambridge and elsewhere, and introduce you to some of the extraordinary young engineers working to make these ideas a reality. Event: 217, Talk, Ages 8+, Fully Booked